No tickets are currently available.
Dynamic Pricing
ARC's policy is to set ticket prices based on demand, like budget airlines, which means we set a price when the event goes on sale and then sometimes put the price up or down depending on how the show is selling. Usually, the price will increase as we get closer to the event, so it is advantageous to book in advance, although sometimes we will put special offers on and reduce the price. Our website will always show the current ticket price.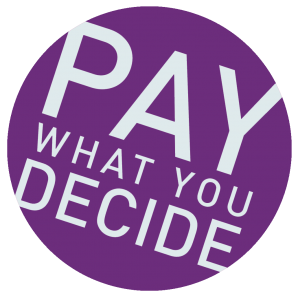 ARC's theatre and dance performances are priced on a Pay What You Decide basis, which means you don't have to pay until after you have seen a show!
We want to encourage more people to come and see shows at ARC, more often. Pay What You Decide not only allows you to pay what you can afford, rather than a fixed ticket price, but also removes the financial risk of buying a ticket for a show in advance without knowing whether you are going to enjoy it or not.
Tickets are available to book in advance as usual, but there is no obligation for you to pay until after you have seen the show. You can then decide on a price which you think is suitable based on your experience, which means if you haven't enjoyed it at all, you don't have to pay anything.
All money collected will help ARC pay the artists who have performed, and we therefore hope you will give generously.
Please ensure you have arrived and collected your tickets 15 minutes before the show starts in order to secure your seats. At the end of the show, you can decide what to pay, either by cash on the door or by card at the Box Office.
Seating: Allocated - See Seating Plan for More Details
These relaxed screenings are designed to be a more enjoyable experience for learning-disabled people, people with autism and people with sensory or neurological conditions.
Briar and Bramble lose their mother at a very young age in mysterious circumstances. Many years later, logger Vick takes the bears to visit the Robot Research Institute, and they uncover a clue relating to Briar and Bramble's mother. Suddenly, all the answers surrounding her disappearance are about to be revealed.
Directors
Yongchang Lin, Heqi Shao
Cast
Patrick Freeman, Joseph S. Lambert, Paul 'Maxx' Rinehart, Kally Khourshid, Olivia Seaton-Hill, Chris Boike, Nicola Vincent
BBFC Ratings Info (May Contain Spoilers)

Violence

There is mild violence in rollercoaster fight scenes in which sympathetic characters take on evil robots armed with fantastical weapons that emit energy blasts. The fighting also includes undetailed bashing and a head butt that results in a character sustaining a slightly bloody nose, but there is no other injury detail.

Threat and horror

There is mild, occasionally prolonged, threat to characters with whom young children will identify from cartoonish villains and dangerous predicaments, such as collapsing buildings. An older character is restrained and given electric shocks by one of the villains, but is not seriously harmed. Although sometimes intense, the scenes place a focus on the courage, teamwork and resourcefulness of characters as they find ways to escape danger and help their friends.

Rude humour

There is very mild rude humour as a bear takes a shower and wiggles what he calls his "smelly bum".

Theme

Young animal characters, with whom children will identify, cry and demonstrate emotional upset when they believe they have lost their mother and subsequently have memories of her. The characters are given support by others, and there is an ultimately reassuring outcome for them.

Information about screenings with subtitles

Subtitled screenings offer captions which transcribe dialogue only. Subtitled screenings attempt to give D/deaf and hard-of-hearing viewers an understanding of the spoken dialogue within the film, but do not include description about other aspects of the soundtrack, including music and sound effects.

Seating Accessibility Information

Cinema

Seat size

Seats in the Cinema are 45cm (172/3") wide and 46cm (18") deep, are 40cm (152/3") from the floor, and have 12cm (42/3") between seats.

Armrests

Seats in the Cinema have armrests that do not fold away, and cannot be completely removed.

Legroom

Seats in the cinema have 30cm (112/3") of legroom in front of seats, with additional legroom on row A and seats B1-B4 and B11-B14.

Further information

If you have any questions about accessibility our Box Office team are always happy to help and can be contacted on 01642 525199 or by emailing [email protected] - you can also tell us about your access requirements when prompted to do so during the online booking process.