Dynamic Pricing
ARC's policy is to set ticket prices based on demand, like budget airlines, which means we set a price when the event goes on sale and then sometimes put the price up or down depending on how the show is selling. Usually, the price will increase as we get closer to the event, so it is advantageous to book in advance, although sometimes we will put special offers on and reduce the price. Our website will always show the current ticket price.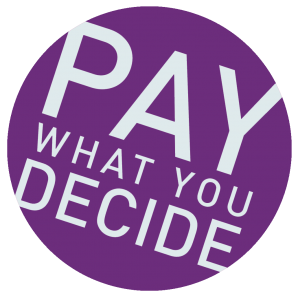 ARC's theatre and dance performances are priced on a Pay What You Decide basis, which means you don't have to pay until after you have seen a show!
We want to encourage more people to come and see shows at ARC, more often. Pay What You Decide not only allows you to pay what you can afford, rather than a fixed ticket price, but also removes the financial risk of buying a ticket for a show in advance without knowing whether you are going to enjoy it or not.
Tickets are available to book in advance as usual, but there is no obligation for you to pay until after you have seen the show. You can then decide on a price which you think is suitable based on your experience, which means if you haven't enjoyed it at all, you don't have to pay anything.
All money collected will help ARC pay the artists who have performed, and we therefore hope you will give generously.
Please ensure you have arrived and collected your tickets 15 minutes before the show starts in order to secure your seats. At the end of the show, you can decide what to pay, either by cash on the door or by card at the Box Office.
Cafe Scientifique – Stockton on Tees
7.45pm, Tuesday 21 March 2023
We are delighted to be joined by
Peter Worrall
Mathematical Physicist and
Technical Services Director, JDR Cables Systems Ltd, Hartlepool
A brief history of the measurement of time: and why it matters
We look forward to seeing you in ARC at our earlier time of 7.45pm for our March Cafe to find out more about the mysteries of the measurement of time.
You can make your contribution in ARC using the collection boxes provided. If you would prefer to pay on line please contact [email protected] for details.
Peter says he intends to explore the anomalies between our familiar sense of time, where are we in the repeating daily and annual cycles with the concept of time as metered by a universal, constantly ticking clock. He will take us through our biological clocks, sundials and the loss of 12 days when the UK adopted the Gregorian calendar. He'll also talk about the accuracy of clocks, how they're synchronised and concept of we humans being time travellers. He hopes our audience will leave with a deeper, truer and even more beautiful description of the multidimensional universe that we all lucky enough to inhabit.
About Peter Worrall
Peter is a mathematical physicist by training but has spent almost all of his working life exploring the interesting second order effects to help to design so that they work better than they would otherwise have done. For the last 15 years he has worked for JDR Cables, the local company that makes sub-sea power cables to connect off-shore wind turbines back to shore. He is presently planning the new factory at Blyth making longer, larger and cables to connect floating structures to our grid. While mathematics, the language of science, has been the key tool to enable this, he is always excited to share how important maths is (because it works) but he wants to share mathematics' intrinsic beauty with others.
Our website
Our website contains a list of all the talks we have held since we were set up in January 2004 and the up and coming talks for this season. Find out more at http://www.cafesci-stockton.org.uk/