Dynamic Pricing
ARC's policy is to set ticket prices based on demand, like budget airlines, which means we set a price when the event goes on sale and then sometimes put the price up or down depending on how the show is selling. Usually, the price will increase as we get closer to the event, so it is advantageous to book in advance, although sometimes we will put special offers on and reduce the price. Our website will always show the current ticket price.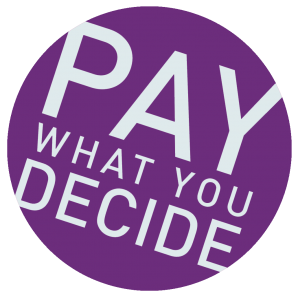 ARC's theatre and dance performances are priced on a Pay What You Decide basis, which means you don't have to pay until after you have seen a show!
We want to encourage more people to come and see shows at ARC, more often. Pay What You Decide not only allows you to pay what you can afford, rather than a fixed ticket price, but also removes the financial risk of buying a ticket for a show in advance without knowing whether you are going to enjoy it or not.
Tickets are available to book in advance as usual, but there is no obligation for you to pay until after you have seen the show. You can then decide on a price which you think is suitable based on your experience, which means if you haven't enjoyed it at all, you don't have to pay anything.
All money collected will help ARC pay the artists who have performed, and we therefore hope you will give generously.
Please ensure you have arrived and collected your tickets 15 minutes before the show starts in order to secure your seats. At the end of the show, you can decide what to pay, either by cash on the door or by card at the Box Office.
Dr David R Chadwick
Consultant and Senior Lecturer in Infectious Diseases
The James Cook University Hospital, Middlesbrough
The world changed early in 2020 when the first major pandemic of the 21st century, COVID-19, began causing havoc including substantial numbers of deaths. The race was on to develop and test vaccines to mitigate this infection with vast resources channelled toward research and development. The challenges were immense, not least because no effective vaccine had previously been developed for coronaviruses. This talk will address the process by which several effective vaccines were developed and tested and the challenges which remain in terms of protecting vulnerable people against this new virus.
Dr David Chadwick is a consultant and senior lecturer in infectious diseases based at The James Cook University Hospital, Middlesbrough. He trained in Cambridge and Singapore before moving back to the North East in 2003. His special and research interests include HIV and vaccines, including strategies to prevent infections in vulnerable and immunocompromised people. He has also worked in West and East Africa on HIV research and is an executive, trustee member of the British HIV Association. He has led a number of vaccine trials and is the local principal investigator for the Novavax and Moderna COVID-19 vaccine trials.