Dynamic Pricing
ARC's policy is to set ticket prices based on demand, like budget airlines, which means we set a price when the event goes on sale and then sometimes put the price up or down depending on how the show is selling. Usually, the price will increase as we get closer to the event, so it is advantageous to book in advance, although sometimes we will put special offers on and reduce the price. Our website will always show the current ticket price.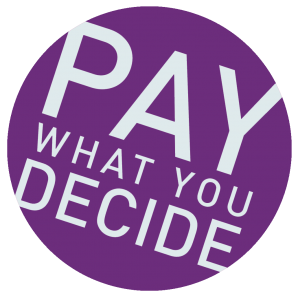 ARC's theatre and dance performances are priced on a Pay What You Decide basis, which means you don't have to pay until after you have seen a show!
We want to encourage more people to come and see shows at ARC, more often. Pay What You Decide not only allows you to pay what you can afford, rather than a fixed ticket price, but also removes the financial risk of buying a ticket for a show in advance without knowing whether you are going to enjoy it or not.
Tickets are available to book in advance as usual, but there is no obligation for you to pay until after you have seen the show. You can then decide on a price which you think is suitable based on your experience, which means if you haven't enjoyed it at all, you don't have to pay anything.
All money collected will help ARC pay the artists who have performed, and we therefore hope you will give generously.
Please ensure you have arrived and collected your tickets 15 minutes before the show starts in order to secure your seats. At the end of the show, you can decide what to pay, either by cash on the door or by card at the Box Office.
From Thomas Wright to the James Webb Space Telescope: the discovery of the galaxy, other galaxies and the history of the universe

Dr Fred Stevenson | Cosmologist
We're very much looking forward to our November Café. The universe explained! Fred thinks this talk will lead to a good question and answer session; the big-bang theory, expanding universe etc. He's right, our Café audience doesn't disappoint. Come along with your questions for a night to remember.
Summary
Thomas Wright was an astronomer from Byers Green in County Durham who had the first notion of the structure of our Milky Way galaxy – this gives the talk some local interest. The talk goes on to discuss what we now know about our galaxy and the discovery by Hubble that our galaxy is not the only one and that, in fact, there are now known to be billions of them stretching into the distance as far as we can see. How far is this? Well, that's where the remarkable JWST comes in – this new space telescope has recently obtained candidates for the farthest galaxies ever observed – the light from them taking over 13.5 billion years to reach us!
About our speaker
Fred obtained a degree in Physics with Astrophysics from the University of Leicester in 1980 followed by a PhD in Cosmology from Durham University in 1986. After further research he has spent the past 25 years teaching adult education classes in astronomy, physics and mathematics at a variety of venues throughout Northumberland, County Durham and North Yorkshire. He has organised and taught numerous weekend courses in astronomy based in the Kielder Forest Park and other venues in the North Pennines. Fred is passionate about talking to the public about astronomy and has given numerous talks to astro societies and other groups. When he is not teaching Fred can be found wandering the moors and fells of the North of England.
Our website
Our website contains a list of all the talks we have held since we were set up in January 2004 and the up and coming talks for this season. Find out more at www.cafesci-stockton.org.uk