Dynamic Pricing
ARC's policy is to set ticket prices based on demand, like budget airlines, which means we set a price when the event goes on sale and then sometimes put the price up or down depending on how the show is selling. Usually, the price will increase as we get closer to the event, so it is advantageous to book in advance, although sometimes we will put special offers on and reduce the price. Our website will always show the current ticket price.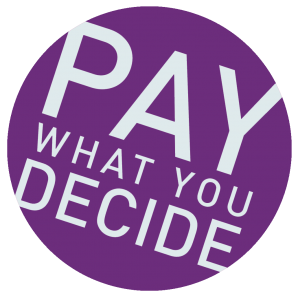 ARC's theatre and dance performances are priced on a Pay What You Decide basis, which means you don't have to pay until after you have seen a show!
We want to encourage more people to come and see shows at ARC, more often. Pay What You Decide not only allows you to pay what you can afford, rather than a fixed ticket price, but also removes the financial risk of buying a ticket for a show in advance without knowing whether you are going to enjoy it or not.
Tickets are available to book in advance as usual, but there is no obligation for you to pay until after you have seen the show. You can then decide on a price which you think is suitable based on your experience, which means if you haven't enjoyed it at all, you don't have to pay anything.
All money collected will help ARC pay the artists who have performed, and we therefore hope you will give generously.
Please ensure you have arrived and collected your tickets 15 minutes before the show starts in order to secure your seats. At the end of the show, you can decide what to pay, either by cash on the door or by card at the Box Office.
To watch live stream please contact [email protected]
Hip replacement: past present and future and the influence of Teesside on the safety of these devices
Mr Tony Nargol, Orthopaedic Surgeon, North Tees and Hartlepool NHS Foundation Trust and Nuffield Health
Hip replacement or, to give it its proper name, total hip arthroplasty (THA) is considered to be one of the most successful surgical procedures, benefitting millions of people worldwide. However changes were made to these hips around the turn of the century which would have a significant impact on many patients.
Orthopaedic surgeon Mr Tony Nargol, who has spent his professional career on Teesside replacing hips for almost 20 years, developed a centre for examining hip and knee replacements. This led to the identification of well performing implants, but also those that were failing prematurely. Teesside changed the course of history in how hip replacements were being designed. Mr Nargol will show how Teesside had an influence around the world on patient care. This led to the massive international medico-legal battle with one of the largest healthcare companies taking Mr Nargol to Ireland, Australia and the USA. Mr Nargol's story has some similarity to the events in the film Erin Brockovich.