No tickets are currently available.
Dynamic Pricing
ARC's policy is to set ticket prices based on demand, like budget airlines, which means we set a price when the event goes on sale and then sometimes put the price up or down depending on how the show is selling. Usually, the price will increase as we get closer to the event, so it is advantageous to book in advance, although sometimes we will put special offers on and reduce the price. Our website will always show the current ticket price.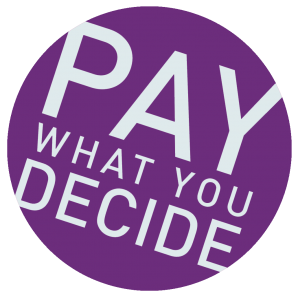 ARC's theatre and dance performances are priced on a Pay What You Decide basis, which means you don't have to pay until after you have seen a show!
We want to encourage more people to come and see shows at ARC, more often. Pay What You Decide not only allows you to pay what you can afford, rather than a fixed ticket price, but also removes the financial risk of buying a ticket for a show in advance without knowing whether you are going to enjoy it or not.
Tickets are available to book in advance as usual, but there is no obligation for you to pay until after you have seen the show. You can then decide on a price which you think is suitable based on your experience, which means if you haven't enjoyed it at all, you don't have to pay anything.
All money collected will help ARC pay the artists who have performed, and we therefore hope you will give generously.
Please ensure you have arrived and collected your tickets 15 minutes before the show starts in order to secure your seats. At the end of the show, you can decide what to pay, either by cash on the door or by card at the Box Office.
General Prices: Free
Seating: N/A
For a sustainable future one challenge to scientists is to think of innovative and inspiring new ideas to generate energy, tackle waste and encourage recycling. The ability of microbes to produce hydrogen gas is widespread in nature and there is resurgent interest in biohydrogen as a clean and renewable energy source. There are recent reports that bacterial hydrogenase enzymes running in reverse could be used to capture carbon dioxide. The conversion of gaseous carbon dioxide to aqueous formic acid by engineered microbes may be one solution for the long term storage and management of waste carbon dioxide.
Frank Sargent is Professor of Microbial Biotechnology in the School of Natural & Environmental Sciences (SNES) at Newcastle University. Frank's research focuses on molecular, genetic and applied aspects of the assembly, structure and function of bacterial metal-dependent enzymes. Current research projects are focused on bacterial hydrogen production and hydrogen-dependent carbon dioxide capture, and protein secretion pathways in bacteria.
Due to the current social distancing guidelines this installment of Café Scientifique will be hosted online Via Zoom. Please contact [email protected] for details of how to join the meeting.