Dynamic Pricing
ARC's policy is to set ticket prices based on demand, like budget airlines, which means we set a price when the event goes on sale and then sometimes put the price up or down depending on how the show is selling. Usually, the price will increase as we get closer to the event, so it is advantageous to book in advance, although sometimes we will put special offers on and reduce the price. Our website will always show the current ticket price.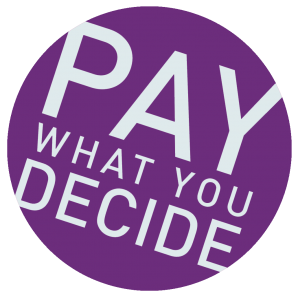 ARC's theatre and dance performances are priced on a Pay What You Decide basis, which means you don't have to pay until after you have seen a show!
We want to encourage more people to come and see shows at ARC, more often. Pay What You Decide not only allows you to pay what you can afford, rather than a fixed ticket price, but also removes the financial risk of buying a ticket for a show in advance without knowing whether you are going to enjoy it or not.
Tickets are available to book in advance as usual, but there is no obligation for you to pay until after you have seen the show. You can then decide on a price which you think is suitable based on your experience, which means if you haven't enjoyed it at all, you don't have to pay anything.
All money collected will help ARC pay the artists who have performed, and we therefore hope you will give generously.
Please ensure you have arrived and collected your tickets 15 minutes before the show starts in order to secure your seats. At the end of the show, you can decide what to pay, either by cash on the door or by card at the Box Office.
Cafe Scientifique – Stockton on Tees
7.45pm, Tuesday 21 February 2023
Please note earlier start time
We are delighted to be joined by
Fiona Erskine
Local Author and Chemical Engineer
The periodic table of an engineering life: a journey through a career in engineering and the chemical elements met along the way
We look forward to seeing you in ARC at our earlier time of 7.45pm for our February Cafe, to find out more about Fiona Erskine and her sightseeing tour of the periodic table.
You can make your contribution in ARC using the collection boxes provided. If you'd prefer to pay on line the details are below. Please put your name as a reference. Thank you.
Bank Unity Bank
Name Cafe Scientifique, Stockton on Tees
Sort code 608301
Account 20231558
Fiona will take us on a sightseeing tour around the periodic table, dropping in on some of the chemical elements that entranced her over a 40-year career in heavy industry: from night shift in a fertiliser factory (7N 15P 19K) to Whitehall advocacy for net zero (6C ) via catalyst activation in India (1H), technology transfer in China (22Ti) and a visit to Chernobyl (92U).
NPK Nitrogen, Phosphorus and Potassium
I Iodine
Sb Antimony
H Hydrogen
S Sulphur
Ti Titanium
U Uranium
C Carbon
About Fiona Erskine
Fiona, who lives in Eaglescliffe, grew up in Edinburgh. After winning a national engineering scholarship, she graduated in chemical engineering from the University of Cambridge. Her work has taken her across Europe and round the world via Brazil, India and China. She has written a number of novels; the first being The Chemical Detective (published in 2019).She has turned rock into fertilizer, recycled solvents, recovered precious metals, brought medicines to market, made amazing new polymers and catalysts, demolished factories, directed international construction projects to build new ones, set up a global pigment business and generated electricity from woody biomass. If you have a family member or friend who is considering a career in this area please bring them along! They will have the chance to ask Fiona about her experience.