No tickets are currently available.
Dynamic Pricing
ARC's policy is to set ticket prices based on demand, like budget airlines, which means we set a price when the event goes on sale and then sometimes put the price up or down depending on how the show is selling. Usually, the price will increase as we get closer to the event, so it is advantageous to book in advance, although sometimes we will put special offers on and reduce the price. Our website will always show the current ticket price.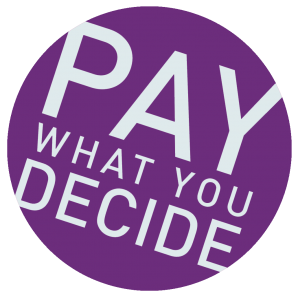 ARC's theatre and dance performances are priced on a Pay What You Decide basis, which means you don't have to pay until after you have seen a show!
We want to encourage more people to come and see shows at ARC, more often. Pay What You Decide not only allows you to pay what you can afford, rather than a fixed ticket price, but also removes the financial risk of buying a ticket for a show in advance without knowing whether you are going to enjoy it or not.
Tickets are available to book in advance as usual, but there is no obligation for you to pay until after you have seen the show. You can then decide on a price which you think is suitable based on your experience, which means if you haven't enjoyed it at all, you don't have to pay anything.
All money collected will help ARC pay the artists who have performed, and we therefore hope you will give generously.
Please ensure you have arrived and collected your tickets 15 minutes before the show starts in order to secure your seats. At the end of the show, you can decide what to pay, either by cash on the door or by card at the Box Office.
Do you have time to kill? Would you like to meet more local people, find a new hobby, or even uncover a hidden talent? If so, The Creative Arts Recruitment Squad are here to help!
This event provides an opportunity to chat with friendly people experienced in writing and publishing books, photography and filmmaking, music and singing, art and crafting, writing for stage and screen, and drawing and painting. And after we've introduced you to these art forms, will signpost you to local workshops, and mentors, and we'll help you form your own creative groups.
We want to recruit new creatives from all over Teesside, but we want to start with Stockton first. So if you're looking to meet new people and develop your social life, if you've felt a bit isolated over the last year, and you'd like to get back to using your community centres, village halls and venues – whether you want to be involved with the creative arts as a hobby for your own mental health or well-being – if you want to be the next best-selling author or the next famous painter at the Saatchi gallery, we can help!
Meet people from:
Writing and publishing – CG Hatton
Gillie has been running Billingham-based Sixth Element Publishing for over ten years, helping new writers from all over the region to realise their dreams of seeing their name in print. Gillie has written a series of nine action-packed sci-fi novels entitled The Thieves Guild.
Music and singing – Jamie Sample
Once an award-winning arts volunteer, Jamie is now an artist in his own right, as well as a singer-songwriter with an extraordinary voice. He sings with Streetwise Opera and the newly-formed local community choir, SYSTEMIC.
Arts and crafts – Sarah E Falconer
One year ago, Sarah Falconer set up Steel River Crafts to teach people mindful doodling, and offer tuition in arts and crafts. Sarah also set up an online shop which sells her personalised pyrography, crocheted miniatures, and wearable art.
Drawing and painting – Adrian Moule
Adrian is a painter and printmaker who works with local communities, supporting people to develop and engage in their own ideas. Adrian runs creative health group, 2B, and Teesside Print Prize, helping people to showcase their work in Middlesbrough town centre.
Writing for stage and screen – Kirsten Luckins
Kirsten creates live literature events and community writing projects. She's the Director of the Tees Women Poets collective, who run writing walks and a monthly open mic with Stockton Libraries, and Festival Coordinator for Crossing the Tees Book Festival.
Photography and filmmaking – Ian Robinson
Ian produces dramatic work in any setting and environment – from beautiful countryside to urban decay, and corporate work to weddings. Ian's skills include straight-up shooting with basic equipment, to more complex work using filters and effects.