Dynamic Pricing
ARC's policy is to set ticket prices based on demand, like budget airlines, which means we set a price when the event goes on sale and then sometimes put the price up or down depending on how the show is selling. Usually, the price will increase as we get closer to the event, so it is advantageous to book in advance, although sometimes we will put special offers on and reduce the price. Our website will always show the current ticket price.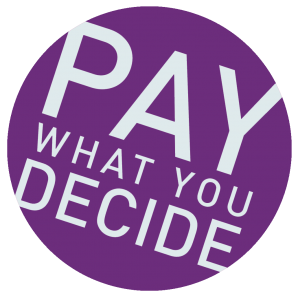 ARC's theatre and dance performances are priced on a Pay What You Decide basis, which means you don't have to pay until after you have seen a show!
We want to encourage more people to come and see shows at ARC, more often. Pay What You Decide not only allows you to pay what you can afford, rather than a fixed ticket price, but also removes the financial risk of buying a ticket for a show in advance without knowing whether you are going to enjoy it or not.
Tickets are available to book in advance as usual, but there is no obligation for you to pay until after you have seen the show. You can then decide on a price which you think is suitable based on your experience, which means if you haven't enjoyed it at all, you don't have to pay anything.
All money collected will help ARC pay the artists who have performed, and we therefore hope you will give generously.
Please ensure you have arrived and collected your tickets 15 minutes before the show starts in order to secure your seats. At the end of the show, you can decide what to pay, either by cash on the door or by card at the Box Office.
Seating: Allocated - See Seating Plan for More Details
Book before Wed 1 Sept to get the Early Bird price of just £14 per ticket.
MC Matt Reed is lighting up the stage again for our Christmas Special and he'll be introducing another sparkling line-up!
Multi award winning comedian Tom Binns has performed his 'Psychic' Character Ian D Montfort to 5 star reviews around The World and in the smash hit British film "Eaten by Lions"
He's entertained and amazed skeptics and believers alike on his own BBC Radio 2 series 'Ian D Montfort is: Unbelievable' and his critically acclaimed BBC 1 Friday night series Hospital People .
During this time Tom claims to have discovered a genuine 'psychic' ability and now performs as The 'Psychic' Comedium. In his performances Tom clearly makes jaw dropping revelations about his audience but is he gifted or is he deluded or is he just full of shit?
Whatever you decide his gift for comedy is undeniable and his 'psychic' powers are unbelievable!
"Binns has either gone native or so deeply ironic that he's lost touch with reality. I can only assume he sells more tickets if he claims to be the real deal. In this post truth 'end of days' era we're living in, why not? Best of luck to him." – Evening Mail
Tom will be supported by 8/10 Cats Do Countdown, Dictionary Corner favourite and Edinburgh Comedy Award Nominee – Hospital Radio DJ Ivan Brackenbury.
The Psychic 'Comedium' is, 'a masterclass in improvisation, character comedy and mindreading' – Telegraph ⭐️⭐️⭐️⭐️⭐️
'Binns has his character nailed and he mines the comic seam, ruthlessly to create top-quality entertainment with practically universal appeal' – Guardian ⭐️⭐️⭐️⭐️
Comedian in the middle Omar's Abid's material is very clever and often a little controversial. He has a wonderful self-deprecating style that weaves around social commentary based material, delivered in a trademark, confident yet calm style. Omar has an incredibly dry delivery which works perfectly for him due to his well thought out topical, yet twisted humour.