No tickets are currently available.
Dynamic Pricing
ARC's policy is to set ticket prices based on demand, like budget airlines, which means we set a price when the event goes on sale and then sometimes put the price up or down depending on how the show is selling. Usually, the price will increase as we get closer to the event, so it is advantageous to book in advance, although sometimes we will put special offers on and reduce the price. Our website will always show the current ticket price.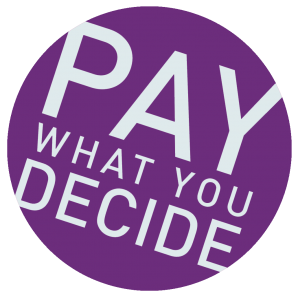 ARC's theatre and dance performances are priced on a Pay What You Decide basis, which means you don't have to pay until after you have seen a show!
We want to encourage more people to come and see shows at ARC, more often. Pay What You Decide not only allows you to pay what you can afford, rather than a fixed ticket price, but also removes the financial risk of buying a ticket for a show in advance without knowing whether you are going to enjoy it or not.
Tickets are available to book in advance as usual, but there is no obligation for you to pay until after you have seen the show. You can then decide on a price which you think is suitable based on your experience, which means if you haven't enjoyed it at all, you don't have to pay anything.
All money collected will help ARC pay the artists who have performed, and we therefore hope you will give generously.
Please ensure you have arrived and collected your tickets 15 minutes before the show starts in order to secure your seats. At the end of the show, you can decide what to pay, either by cash on the door or by card at the Box Office.
MC on the night is the fantastic Mike Wilkinson – one of our absolute faves. Charming, dry as a bone humour that will have you crying with laughter.
Jordan Ducharme is a Canadian born comedian on the rise.  Jordan began comedy hoping to adopt the witty and gritty type of humour that made him fall in love with stand up as a teenager. He's continued to mature into a competent powerhouse on stage, with no subject off limits and no stone left unturned in his own life. Moving to Manchester in 2019, Jordan was quick to make a big splash, quickly winning the local clubs gong show competitions.
Nabil Abdulrashid is an award-winning comedian, writer, presenter and actor. Nabil competed in the 2020 series of Britain's Got Talent, enjoying a triumphant run to the competition's final, drawing praise from the show's judges for his hilarious and uncompromising brand of stand-up comedy. Awarding Nabil the coveted 'Golden Buzzer' in the first round of the competition, Alesha Dixon praised his "edgy, charismatic" style while David Walliams described both his performance and writing as "perfect". Nabil's hilarious takes on global politics and multicultural society as well as his incorporation of multiple languages within his stand-up has also seen him build an international following, performing sold-out shows in Tanzania, South Africa, Dubai (headlining the Dubai National Opera's first ever stand-up show), Holland, Austria and Belgium. Nabil has also toured the UK with his show BRAP (Black Racist And Proud). In 2020, one of Nabil's performances was chosen as one of the Guardian's 10 Best Comedy Shows of that year. His new show, N.A.B.I.L. (Nobody Actually Believed I'd Last), tours in 2021.