No tickets are currently available.
Dynamic Pricing
ARC's policy is to set ticket prices based on demand, like budget airlines, which means we set a price when the event goes on sale and then sometimes put the price up or down depending on how the show is selling. Usually, the price will increase as we get closer to the event, so it is advantageous to book in advance, although sometimes we will put special offers on and reduce the price. Our website will always show the current ticket price.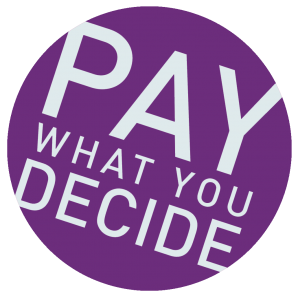 ARC's theatre and dance performances are priced on a Pay What You Decide basis, which means you don't have to pay until after you have seen a show!
We want to encourage more people to come and see shows at ARC, more often. Pay What You Decide not only allows you to pay what you can afford, rather than a fixed ticket price, but also removes the financial risk of buying a ticket for a show in advance without knowing whether you are going to enjoy it or not.
Tickets are available to book in advance as usual, but there is no obligation for you to pay until after you have seen the show. You can then decide on a price which you think is suitable based on your experience, which means if you haven't enjoyed it at all, you don't have to pay anything.
All money collected will help ARC pay the artists who have performed, and we therefore hope you will give generously.
Please ensure you have arrived and collected your tickets 15 minutes before the show starts in order to secure your seats. At the end of the show, you can decide what to pay, either by cash on the door or by card at the Box Office.
Seating: Allocated - See Seating Plan for More Details
You can book tickets for the live-stream of this show here.
Sharp material and quick wits have seen Catch 22 favourite Danny McLoughlin firmly establish himself as one of the country's premier comics and most sought after MCs.
"Danny McLoughlin is a class act. His innate comic timing, insightful digressions and ability to think on his feet puts him alongside the most talented and genuinely funny comedians." – ThreeWeeks
Phil Chapman began performing comedy in 2006 at a local Chinese restaurant, he was asked to leave soon into the performance, but such was the reaction of the crowd – a rapturous round of applause (in hindsight, this may have been more for the management although no one can really confirm anything) – he decided to pursue a career via more conventional means.
Phil's playful brand of comedy is unique and infectious. With a set that blends anecdotes and observations with a healthy dose of banter, his happy-go-lucky approach and mischievous on-stage persona, delights audiences far and wide.
"A good stage presence, with jokes to match."  Gigglebeats
"Fearless as well as bloody funny."  Smacked Arse Comedy
With musical skills that would easily fit into many rock bands headliner Duncan Oakley performs an infectious mix of musical comedy and stand up with one of his trusty guitars – Maurice (Fender Strat), No.7 (acoustic) or his Les Paul (the Lezza) by his side.
With an eye and ear for the silly, rude, playful and downright irritating occurrences of life Duncan musters up songs that not only make you laugh, they bury into the recesses of your mind and find you a humming tune with a smile on your face three days later, confused and wondering where it's come from.
"Leaping between stupidity and pure brilliance!" Yorkshire Evening Post
"Unlike some musical comics who rely on a guitar to get them through, Oakley's routine deftly mixes the tunes with the stand-up"  City Life
Funny, charming and a little bit manic, our comedian in the middle, Eleri Morgan is a regular writer/contributor for BBC SESH, BBC WALES, BBC CYMRU and S4C and has performed at gigs throughout the UK, including the Edinburgh Fringe and Mach Comedy Festival. She is a series regular in the 2nd series of the improvised sitcom 'Tourist Trap' on BBC One Wales.
"A force of nature and a full throttled idiot" – Logan Murray