No tickets are currently available.
Dynamic Pricing
ARC's policy is to set ticket prices based on demand, like budget airlines, which means we set a price when the event goes on sale and then sometimes put the price up or down depending on how the show is selling. Usually, the price will increase as we get closer to the event, so it is advantageous to book in advance, although sometimes we will put special offers on and reduce the price. Our website will always show the current ticket price.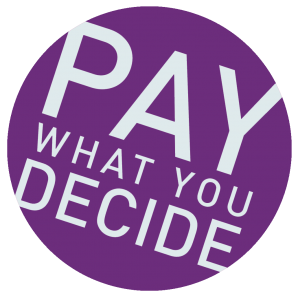 ARC's theatre and dance performances are priced on a Pay What You Decide basis, which means you don't have to pay until after you have seen a show!
We want to encourage more people to come and see shows at ARC, more often. Pay What You Decide not only allows you to pay what you can afford, rather than a fixed ticket price, but also removes the financial risk of buying a ticket for a show in advance without knowing whether you are going to enjoy it or not.
Tickets are available to book in advance as usual, but there is no obligation for you to pay until after you have seen the show. You can then decide on a price which you think is suitable based on your experience, which means if you haven't enjoyed it at all, you don't have to pay anything.
All money collected will help ARC pay the artists who have performed, and we therefore hope you will give generously.
Please ensure you have arrived and collected your tickets 15 minutes before the show starts in order to secure your seats. At the end of the show, you can decide what to pay, either by cash on the door or by card at the Box Office.
General Prices: £12 / Tables £14 + £0.10 booking fee
Seating: Reserved seated
Our MC tonight is Catch 22 favourite Danny Mcloughlin.  His innate comic timing and confident stage presence combined with a finely tuned ability to react and think on his feet make for a winning comic recipe. This combination means Danny is widely regarded as one of the best MCs on the circuit and a regular compere for the coveted Edinburgh Comedy Award Galas.
He'll be introducing another one of our favourite acts in proud Yorkshireman and carvery expert, Scott Bennett. If you're a fan of Peter Kay, Jason Manford and John Bishop, then you'll love Scott.
Fabulous turns of phrase and pungent expressions, superb character creations – Chortle
The highlight of the evening, naturally hilarious – Broadway Baby
Added to the bill this month is the acerbic Jonathan Brook. Brook is dry. Incredibly dry.  You listen intently, and you're never ready for the punchline. You can't tell when it's coming because of his delivery, but when it arrives it's consistently a killer line. Every single time. Topics that he covers include love and poetry, a comparison between him and Lady Gaga, his parents' divorce and sharing stories about living with legs that hate him. Brook is a seriously funny guy, with a brilliant act. He's a regular on the Leeds comedy circuit now and, travelling further afield, becoming increasingly popular.