No tickets are currently available.
Dynamic Pricing
ARC's policy is to set ticket prices based on demand, like budget airlines, which means we set a price when the event goes on sale and then sometimes put the price up or down depending on how the show is selling. Usually, the price will increase as we get closer to the event, so it is advantageous to book in advance, although sometimes we will put special offers on and reduce the price. Our website will always show the current ticket price.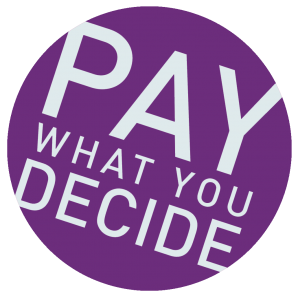 ARC's theatre and dance performances are priced on a Pay What You Decide basis, which means you don't have to pay until after you have seen a show!
We want to encourage more people to come and see shows at ARC, more often. Pay What You Decide not only allows you to pay what you can afford, rather than a fixed ticket price, but also removes the financial risk of buying a ticket for a show in advance without knowing whether you are going to enjoy it or not.
Tickets are available to book in advance as usual, but there is no obligation for you to pay until after you have seen the show. You can then decide on a price which you think is suitable based on your experience, which means if you haven't enjoyed it at all, you don't have to pay anything.
All money collected will help ARC pay the artists who have performed, and we therefore hope you will give generously.
Please ensure you have arrived and collected your tickets 15 minutes before the show starts in order to secure your seats. At the end of the show, you can decide what to pay, either by cash on the door or by card at the Box Office.
General Prices: £16 + £0.10 booking fee
Seating: Reserved seated
A female guitar prodigy, at fourteen Chantel was told by major labels that she had a "great voice, but girls don't play guitar like that!"  Wisely ignoring the comments, she enrolled at the Leeds College of Music and became the first student in the college's history, to achieve a 100% pass mark, with 18 distinctions.  Chantel left with a First Class Honours degree in Popular Music and a coveted prize, the college's musician of the year award.
In previous years, Chantel stepped out in the pro-musician world and her stunning live performances demonstrated that she had the ability to perform rock for the new age, played by a musician born with an effortless virtuosity.  Since then, she has built a loyal and growing fan base who follow her every move.
If you measure an artist's prospects by the company they keep, then Chantel has been moving in the right direction. Early in her career, Chantel was invited to perform with Joe Bonamassa, on two of his UK tours.
When Chantel released her 2011 debut album, Like No Other, one critic said, "Chantel McGregor deserves to be held up as a messiah of blues-rock and given her own mountain. She doesn't strum or pick her guitar but almost bends and distorts it, as if she's channelling the ghost of Hendrix through her fingers" 
Chantel's follow up album, Like Control, again produced by Livingstone Brown, was released in October 2015 to critical acclaim.
All About Rock's review of the album said:
'The album in its entirety has a common theme running through of gothic imagery which makes it almost a concept album but each track stands out on its own. Chantel's double tracked vocals are amazingly tight & the production on this album sounds loose which is a compliment to Livingstone Brown & Chantel who have obviously spent a lot of time on the arrangements. The girl can obviously shred but she does so in a very understated & despite the title of the album, a controlled way. Recommended for fans of blues, rock, Jeff Buckley, Marillion, Big & Rich, Country & Nick Drake. This is a hard album to categorize & pigeon hole which in this day & age of labels & boxes is a good thing.'
Planetmosh reviewed the album with the following comment:
'The album is full of great guitar work, but Chantel McGregor isn't just a guitar player – she does the vocals too and they are equally impressive.  She's got a great voice and the variety of songs on the album allows her to demonstrate a range of styles vocally.  It really is a great album.'
Chantel recorded a live album at the end of March 2019, due to be released in Summer 2019.