No tickets are currently available.
Dynamic Pricing
ARC's policy is to set ticket prices based on demand, like budget airlines, which means we set a price when the event goes on sale and then sometimes put the price up or down depending on how the show is selling. Usually, the price will increase as we get closer to the event, so it is advantageous to book in advance, although sometimes we will put special offers on and reduce the price. Our website will always show the current ticket price.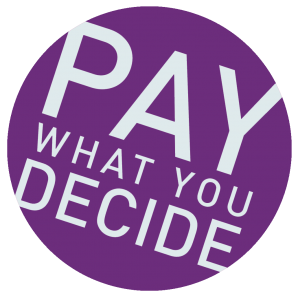 ARC's theatre and dance performances are priced on a Pay What You Decide basis, which means you don't have to pay until after you have seen a show!
We want to encourage more people to come and see shows at ARC, more often. Pay What You Decide not only allows you to pay what you can afford, rather than a fixed ticket price, but also removes the financial risk of buying a ticket for a show in advance without knowing whether you are going to enjoy it or not.
Tickets are available to book in advance as usual, but there is no obligation for you to pay until after you have seen the show. You can then decide on a price which you think is suitable based on your experience, which means if you haven't enjoyed it at all, you don't have to pay anything.
All money collected will help ARC pay the artists who have performed, and we therefore hope you will give generously.
Please ensure you have arrived and collected your tickets 15 minutes before the show starts in order to secure your seats. At the end of the show, you can decide what to pay, either by cash on the door or by card at the Box Office.
Inspired by the incredible true story of composer Joseph Bologne, Chevalier de Saint-Georges. The illegitimate son of an African slave and a French plantation owner, Bologne (Kelvin Harrison Jr. in a tour de force performance) rises to improbable heights in French society as a celebrated violinist-composer and fencer, complete with an ill-fated love affair and a falling out with Marie Antoinette (Lucy Boynton) and her court.
The screenings on Wed 5 July at 7.30pm and Thu 6 Jul at 2pm will have descriptive subtitles. The screening on Thu 6 Jul 2pm is relaxed for people living with dementia.
Director
Stephen Williams
Cast
Kelvin Harrison Jr., Samara Weaving, Lucy Boynton, Ronkẹ Adékoluẹjo, Marton Csokas, Alex Fitzalan, and Minnie Driver
BBFC Ratings Info (May Contain Spoilers)

Violence

A fencing bout contains sharp slashings of swords, resulting in brief blood spurts and partially-masked injuries under torn clothing. A man is shot in the chest in a scene depicting social unrest on the streets of Paris during the French Revolution.

Threat and horror

A man is attacked in an alley, punched and threatened to have his fingers broken. In other scenes, an enslaved woman tries to escape capture from white plantation owners. There is also a suspenseful scene involving gun threat.

Language

There is infrequent use of strong language ('f**k'), accompanied by others milder terms ('whore', 'harlot', 'bastard', 'shit', 'God', 'Christ' and 'damn').

Sex

A man wakes up in between two women, suggesting a threesome. Other verbal references to sex employ innuendo and explore themes of adultery.

Discrimination

Racism in the context of 18th Century France is a frequent feature of the film. The protagonist, the son of an African slave and French plantation owner, is subject to verbal and physical attacks, as well as public mockery, from wealthy white elites. Racist language is used, including terms such as 'dark', 'monkey', 'ape' and 'negro'. Racist behaviour is sometimes accompanied by violence and threat. The film as a whole clearly does not endorse racism, however, with prominent characters attempting to challenge entrenched attitudes.

Theme

There are upsetting scenes as a man is informed that his illegitimate child has been murdered.

Seating Accessibility Information

Cinema

Seat size

Seats in the Cinema are 45cm (172/3") wide and 46cm (18") deep, are 40cm (152/3") from the floor, and have 12cm (42/3") between seats.

Armrests

Seats in the Cinema have armrests that do not fold away, and cannot be completely removed.

Legroom

Seats in the cinema have 30cm (112/3") of legroom in front of seats, with additional legroom on row A and seats B1-B4 and B11-B14.

Further information

If you have any questions about accessibility our Box Office team are always happy to help and can be contacted on 01642 525199 or by emailing [email protected] - you can also tell us about your access requirements when prompted to do so during the online booking process.

Information about screenings with descriptive subtitles

Descriptive subtitles, sometimes referred to as subtitles for D/deaf and hard-of-hearing people or captions, transcribe dialogue and relevant aspects of the soundtrack, including music and sound effects, attempting to give D/deaf and hard-of-hearing viewers an equal experience to those who are able to watch films without descriptive subtitles. Descriptive subtitles would include speech identifiers and descriptive elements such as [door slamming] and [kettle whistling].