No tickets are currently available.
Dynamic Pricing Info
Dynamic Pricing
ARC's policy is to set ticket prices based on demand, like budget airlines, which means we set a price when the event goes on sale and then sometimes put the price up or down depending on how the show is selling. Usually, the price will increase as we get closer to the event, so it is advantageous to book in advance, although sometimes we will put special offers on and reduce the price. Our website will always show the current ticket price.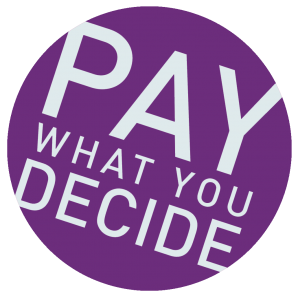 ARC's theatre and dance performances are priced on a Pay What You Decide basis, which means you don't have to pay until after you have seen a show!
We want to encourage more people to come and see shows at ARC, more often. Pay What You Decide not only allows you to pay what you can afford, rather than a fixed ticket price, but also removes the financial risk of buying a ticket for a show in advance without knowing whether you are going to enjoy it or not.
Tickets are available to book in advance as usual, but there is no obligation for you to pay until after you have seen the show. You can then decide on a price which you think is suitable based on your experience, which means if you haven't enjoyed it at all, you don't have to pay anything.
All money collected will help ARC pay the artists who have performed, and we therefore hope you will give generously.
Please ensure you have arrived and collected your tickets 15 minutes before the show starts in order to secure your seats. At the end of the show, you can decide what to pay, either by cash on the door or by card at the Box Office.
Seating: Allocated - See Seating Plan for More Details
25 years on from the release of The Seahorses' seminal album Do It Yourself, acclaimed vocalist Chris Helme will revisit the iconic record with a series of one-off acoustic performances.
Formed by Stone Roses' guitarist John Squire, the English alternative rock band released their first and only album in 1997 to an outpouring of adoration from fans at home and around the world. The album reached number 1 and number 2 in the Scottish and UK album charts respectively, made the top 40 in countries including New Zealand and Sweden, and defined a moment in time for hundreds of thousands of people.
A string of high-profile shows followed, from tours with Oasis and The Rolling Stones and playing Glastonbury, to unforgettable appearances on Top of the Pops and TFI Friday.
This year, Chris will take audiences back to 1997 as he performs the impactful album from start to finish. Join him as he marks the 25th anniversary of Do It Yourself with acoustic performances of this iconic album for the very first time.
"Dreamy but driven indie folk" ​Q Magazine