No tickets are currently available.
Dynamic Pricing
ARC's policy is to set ticket prices based on demand, like budget airlines, which means we set a price when the event goes on sale and then sometimes put the price up or down depending on how the show is selling. Usually, the price will increase as we get closer to the event, so it is advantageous to book in advance, although sometimes we will put special offers on and reduce the price. Our website will always show the current ticket price.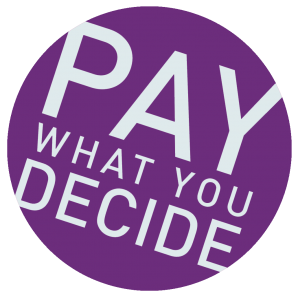 ARC's theatre and dance performances are priced on a Pay What You Decide basis, which means you don't have to pay until after you have seen a show!
We want to encourage more people to come and see shows at ARC, more often. Pay What You Decide not only allows you to pay what you can afford, rather than a fixed ticket price, but also removes the financial risk of buying a ticket for a show in advance without knowing whether you are going to enjoy it or not.
Tickets are available to book in advance as usual, but there is no obligation for you to pay until after you have seen the show. You can then decide on a price which you think is suitable based on your experience, which means if you haven't enjoyed it at all, you don't have to pay anything.
All money collected will help ARC pay the artists who have performed, and we therefore hope you will give generously.
Please ensure you have arrived and collected your tickets 15 minutes before the show starts in order to secure your seats. At the end of the show, you can decide what to pay, either by cash on the door or by card at the Box Office.
General Prices: £22 + £0.10 booking fee
Seating: Reserved seated
Join paranormal sensation Clinton Baptiste as he takes you on a hilarious yet touching journey through his life, out the other side and beyond the Celestial Curtains.
Clinton Baptiste is the hapless clairvoyant, medium and psychic from Peter Kay's smash hit Channel 4 TV show Peter Kay's Phoenix Nights. Now, some eighteen years after the show aired, he returns to conjure up his extraordinary powers for a new generation.
Clinton will give readings to the audience, offering advice from beyond the grave.  He will predict your future, tell you about your past and all manner of spooky stuff an' that.
But more, he takes you through his demise, his comeback and finally…finally on this special night, he will attempt to pass over to The Other Side and return (before the venue want you all out)….with THE ANSWER!
Starring Alex Lowe, Clinton Baptiste is the copyright of Goodnight Vienna Productions.
'Hundreds of years ago when man walked the planet he had no real means of communication. In time man developed a phenomena which has never been fully understood by the psychic community. This phenomena is…Clinton Baptiste' – Peter Kay