Dynamic Pricing
ARC's policy is to set ticket prices based on demand, like budget airlines, which means we set a price when the event goes on sale and then sometimes put the price up or down depending on how the show is selling. Usually, the price will increase as we get closer to the event, so it is advantageous to book in advance, although sometimes we will put special offers on and reduce the price. Our website will always show the current ticket price.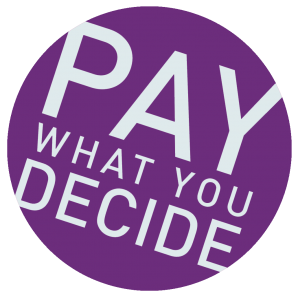 ARC's theatre and dance performances are priced on a Pay What You Decide basis, which means you don't have to pay until after you have seen a show!
We want to encourage more people to come and see shows at ARC, more often. Pay What You Decide not only allows you to pay what you can afford, rather than a fixed ticket price, but also removes the financial risk of buying a ticket for a show in advance without knowing whether you are going to enjoy it or not.
Tickets are available to book in advance as usual, but there is no obligation for you to pay until after you have seen the show. You can then decide on a price which you think is suitable based on your experience, which means if you haven't enjoyed it at all, you don't have to pay anything.
All money collected will help ARC pay the artists who have performed, and we therefore hope you will give generously.
Please ensure you have arrived and collected your tickets 15 minutes before the show starts in order to secure your seats. At the end of the show, you can decide what to pay, either by cash on the door or by card at the Box Office.
Tees Valley New Creatives present Constellation
Constellation [noun]
A group of stars that align together to form a pattern, connected vision or configuration
An assemblage, group or network of related people, qualities, characteristics or ideas
Any brilliant, outstanding group or assemblage
Presented by selected members of Tees Valley New Creatives (TVNC), Constellation is a collaborative exhibition showcasing work by some of the most exciting new talent in the creative industry.
The pieces in Constellation range from illustration, graphic design and photography to film, animation and recorded performance, created by a range of TVNC members including:
Adam McLean
Ella Brewster
iSAW Company
Jonathan Raiseborough
Luca Collantine
Lucy Harding
This exhibition is a testament to their artistic skills and ambitions as their professional careers continue to grow.
Tees Valley New Creatives is a ground-breaking, exclusive, highly connected, and industry recognised network of career launching support; helping newly trained professionals expand their potential, secure work, and unlock new opportunities in their field.
TVNC members are an explosive powerhouse of bold new talent in diverse creative fields – from visual artists, designers, writers, performers, film makers, media production specialists and directors, to theatre and events technicians, stage managers, producers, facilitators and arts administrators.
TVNC offers members access to regular sessions with industry guest speakers, exclusive commissions, networking events, dedicated social media platforms, career clinics, internship placements, industry mentoring, CPD bursary awards, TVNC Talent Directory profile hosting, and access to professional resources; whilst sharing career opportunities and introductions via our connections within the sector.
Since the launch of Tees Valley New Creatives:
We have worked with 140+ creative sector employers and stakeholders, alongside the main HE providers in the region, to actively reduce the gap between creative training and employment.
Over 70 members have secured paid employment in the creative and cultural industries, predominately in the Tees Valley; filling 150+ different roles and commission opportunities.
20 members have created successful business start-ups ranging from theatre companies and stores selling self-created work online, to a film and media company!
Membership is open to those who:
Completed training in ANY creative specialism, as part of the Class of 2020, 2021, 2022 or 2023
Trained in, or have returned to live in the Tees Valley
Are over 18 and no longer in full-time education
Are ready to work in the creative and cultural industries
To find out more, or to join Tees Valley New Creatives, please visit www.arconline.co.uk/tvnc