No tickets are currently available.
Duration: 2 hrs
Dynamic Pricing
ARC's policy is to set ticket prices based on demand, like budget airlines, which means we set a price when the event goes on sale and then sometimes put the price up or down depending on how the show is selling. Usually, the price will increase as we get closer to the event, so it is advantageous to book in advance, although sometimes we will put special offers on and reduce the price. Our website will always show the current ticket price.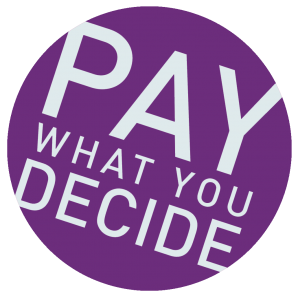 ARC's theatre and dance performances are priced on a Pay What You Decide basis, which means you don't have to pay until after you have seen a show!
We want to encourage more people to come and see shows at ARC, more often. Pay What You Decide not only allows you to pay what you can afford, rather than a fixed ticket price, but also removes the financial risk of buying a ticket for a show in advance without knowing whether you are going to enjoy it or not.
Tickets are available to book in advance as usual, but there is no obligation for you to pay until after you have seen the show. You can then decide on a price which you think is suitable based on your experience, which means if you haven't enjoyed it at all, you don't have to pay anything.
All money collected will help ARC pay the artists who have performed, and we therefore hope you will give generously.
Please ensure you have arrived and collected your tickets 15 minutes before the show starts in order to secure your seats. At the end of the show, you can decide what to pay, either by cash on the door or by card at the Box Office.
Valuing Each Other Workshops for Disabled Women by Disabled Women
It all started for us by creating a space for older disabled women to come together and chat whilst being creative. Artistic skill was not a pre-requisite as we were going to explore a range of artforms together. And so we're committed to continuing to create spaces like that. We'd like to invite disabled women over 50 to come along, have a chat and try something crafty. You don't have to know us to come along – all older disabled women are welcome. We use the term disabled to include people with mental health conditions, long term chronic conditions, physical and sensory conditions, you might be Deaf, visually impaired, neurodivergent or have a neurological condition. We're a very diverse group of people but we have the common thread of connection through disability – quite often the myths and misunderstandings of disability – and so we are there for support for each other. For two hours a week we have an online oasis of belonging where we don't have to explain who we are and we can talk freely whilst
being creative. And we want that for you – a space you can come along to find out more about us, have a natter and a cuppa, make something crafty – you don't have to be artistic, honest. Our theme for the workshop is valuing each other and stretching out the hand of kindness – we'll all make something really simple that we can pass on to others so that they know there is kindness in the world. You don't need to bring anything – just yourselves.
If you require any assistance booking, please contact [email protected]