Dynamic Pricing
ARC's policy is to set ticket prices based on demand, like budget airlines, which means we set a price when the event goes on sale and then sometimes put the price up or down depending on how the show is selling. Usually, the price will increase as we get closer to the event, so it is advantageous to book in advance, although sometimes we will put special offers on and reduce the price. Our website will always show the current ticket price.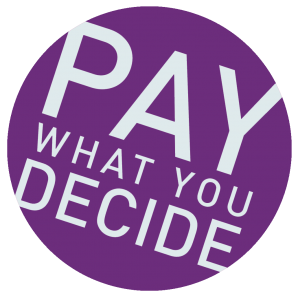 ARC's theatre and dance performances are priced on a Pay What You Decide basis, which means you don't have to pay until after you have seen a show!
We want to encourage more people to come and see shows at ARC, more often. Pay What You Decide not only allows you to pay what you can afford, rather than a fixed ticket price, but also removes the financial risk of buying a ticket for a show in advance without knowing whether you are going to enjoy it or not.
Tickets are available to book in advance as usual, but there is no obligation for you to pay until after you have seen the show. You can then decide on a price which you think is suitable based on your experience, which means if you haven't enjoyed it at all, you don't have to pay anything.
All money collected will help ARC pay the artists who have performed, and we therefore hope you will give generously.
Please ensure you have arrived and collected your tickets 15 minutes before the show starts in order to secure your seats. At the end of the show, you can decide what to pay, either by cash on the door or by card at the Box Office.
ARC presents Crow 'n' Koru; an exhibition crafted by local artists, Jo and Richard.
Showcasing a body of works of various subjects in various mediums, the exhibition aims to give the viewer a glimpse into the minds of two creative souls, who were brought together by chance through meeting here at ARC earlier this year.
Jo Williams
Born in 1963, Jo hails from Golcar, Huddersfield. Now returned to the north after years living in Lincolnshire and Northamptonshire, she finds herself happy and at home in Stockton.
Jo gained her BA Hons in Fine Arts while studying at Wakefield Art College and Coventry and Lanchester Polytechnic (now Coventry University). After graduating in 1985, Jo exhibited and sold her work.
Jo went on to work part time at a florists, a photographers and a cake shop. Whilst bringing up her two sons, Jo continued to paint and create; undertaking commissions and selling her work.
After Jo moved to Northamptonshire in 1997, she took the chance to put the skills she had gained at the florists to good use and started up her own florist business, 'Arts and Flowers' from home. Following this, Jo opened up her own flower shop in Leicester.
Earlier this year, Jo was fortunate to take a trip to New Zealand to visit family. Whilst there, she met with other artists, and as a result she has taken on an Art Swap with one of them.
Jo was inspired by the beautiful scenery, flora and fauna – particularly the Kaimai mountain range and the many varied trees and tree ferns which adorn them, and is keen for these to feature in her next body of work.
Richard Henshaw
Describing himself as a 'gothic emo wildlife lover', Richard was born in 1981 in Norton, where he still lives
As well as being quite an accomplished ceramicist, he enjoys working with mixed media and has ventured recently into textiles and clothing.
Over the years Richard has studied mixed media and fashion and textiles at Billingham and Riverside. He went on to train to degree level in catering, before achieving success as an award winning chef in Grimsby.
Through the contacts he gained whilst volunteering for Community Campus, Richard embarked on a month long trip to Sweden. It was there that he experienced dog sledding, snowboarding, snowmobiling and skiing – not to mention trying his hand at ice fishing and knife making.
As well as drawing inspiration from his environment and nature, Richard also has a fascination with topics of quite a macabre and mysterious nature.
These rituals and customs hail from long ago, but play a big part in Richard's current and future projects.
Prolific in his work, Richard has a keen eye for detail. As you will discover, this accomplished talent shines bright in his many, and sometimes minuscule, ceramic and glass pieces.