Dynamic Pricing
ARC's policy is to set ticket prices based on demand, like budget airlines, which means we set a price when the event goes on sale and then sometimes put the price up or down depending on how the show is selling. Usually, the price will increase as we get closer to the event, so it is advantageous to book in advance, although sometimes we will put special offers on and reduce the price. Our website will always show the current ticket price.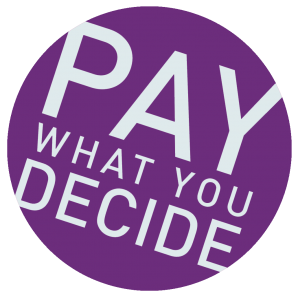 ARC's theatre and dance performances are priced on a Pay What You Decide basis, which means you don't have to pay until after you have seen a show!
We want to encourage more people to come and see shows at ARC, more often. Pay What You Decide not only allows you to pay what you can afford, rather than a fixed ticket price, but also removes the financial risk of buying a ticket for a show in advance without knowing whether you are going to enjoy it or not.
Tickets are available to book in advance as usual, but there is no obligation for you to pay until after you have seen the show. You can then decide on a price which you think is suitable based on your experience, which means if you haven't enjoyed it at all, you don't have to pay anything.
All money collected will help ARC pay the artists who have performed, and we therefore hope you will give generously.
Please ensure you have arrived and collected your tickets 15 minutes before the show starts in order to secure your seats. At the end of the show, you can decide what to pay, either by cash on the door or by card at the Box Office.
Seating: Allocated - See Seating Plan for More Details
Use code 1BOOK2TICKS at the checkout to receive two tickets for the Dame Jacqueline Wilson Book Signing and one copy of the book.
Use code 1BOOK3TICKS at the checkout to receive three tickets for the Dame Jacqueline Wilson Book Signing and one copy of the book.
Do not enter these codes if you would like a copy of the book with each ticket.
______________________________________________________
Meet one of Britain's best-loved and well-known children's authors. Perfect for parents who grew up with Tracy Beaker and children who are just about to embark on the journey of discovery that is Dame Jacqueline Wilson's books.
Dame Jacqueline will be chatting about all her characters as well as introducing her new book Project Fairy, which is free with ticket purchases and is published on September 15th. She will also be answering questions and copies of the books will be signed.
______________________________________________________
Dame Jacqueline Wilson wrote her first novel when she was nine years old, "Meet the Maggots", which was 21 pages long.
She has been writing ever since.
At school she was given the nickname Jacky Daydream, which she later used as the title of her autobiography.
Dame Jacqueline is now one of Britain's bestselling and most beloved children's authors, has written over 100 books and is the creator of characters such as Tracy Beaker and Hetty Feather and now, Mab! More than forty million copies of her books have been sold.  As well as winning many awards for her books, including the Children's Book of the Year, Jacqueline is a former Children's Laureate, and was appointed a Dame in 2008.  Jacqueline is also a great reader, and has amassed over 20,000 books, along with her famous collection of silver rings.
______________________________________________________
Project Fairy (release 15th September 2022)
Mab's mum is obsessed with fairies – she even named Mab after the Fairy Queen! Their flat is full of fairy ornaments, tiny fairy furniture and they've even got fairy lights in the toilet. Mab doesn't quite get it, but she knows that fairies make her mum happy, especially after Dad left.  When Mab comes into school with a new fairy dress on her birthday, her teacher gives her a book all about Victorian fairies. She reads it with her mum and her little brother Robin, and she's surprised to see the drawings inside are nothing like the sweet fairies she imagined.  But the biggest surprise of all is a tiny thing that tumbles out of the pages of the book…