No tickets are currently available.
Dynamic Pricing
ARC's policy is to set ticket prices based on demand, like budget airlines, which means we set a price when the event goes on sale and then sometimes put the price up or down depending on how the show is selling. Usually, the price will increase as we get closer to the event, so it is advantageous to book in advance, although sometimes we will put special offers on and reduce the price. Our website will always show the current ticket price.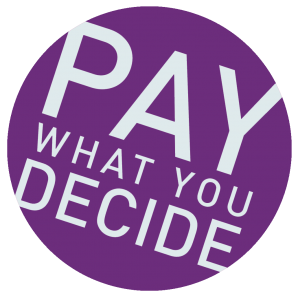 ARC's theatre and dance performances are priced on a Pay What You Decide basis, which means you don't have to pay until after you have seen a show!
We want to encourage more people to come and see shows at ARC, more often. Pay What You Decide not only allows you to pay what you can afford, rather than a fixed ticket price, but also removes the financial risk of buying a ticket for a show in advance without knowing whether you are going to enjoy it or not.
Tickets are available to book in advance as usual, but there is no obligation for you to pay until after you have seen the show. You can then decide on a price which you think is suitable based on your experience, which means if you haven't enjoyed it at all, you don't have to pay anything.
All money collected will help ARC pay the artists who have performed, and we therefore hope you will give generously.
Please ensure you have arrived and collected your tickets 15 minutes before the show starts in order to secure your seats. At the end of the show, you can decide what to pay, either by cash on the door or by card at the Box Office.
General Prices: Pay What You Decide
Seating: Unreserved seated
Apples and Snakes presents a brilliant line-up in the return of our 'pecha kucha' cabaret, where poetry, performance, lecture and projections combine to dazzle and delight.
As ever, we feature performers who represent women's poetry collectives across the North, plus a very special guest from further afield, all bringing their unique perspective on our theme of 'Maidens'.
From Teesside, Sarah Crutwell takes humourous swipe at some of the bizarre aspects of being a Modern Day Maiden in the current climate of sexting, ghosting and the rise of the dick pic.
From Hull, Tracey Scott-Townsend explores what it might mean for a woman to renew and recycle her sense of maidenhood throughout her life, repeatedly setting herself in motion.
From Newcastle, Charley Reay peeps through the eyes of four mythical maidens to tell us of narrow escapes, forced marriages, and encounters with magical Water Horses.
From Sheffield, Sez Thomasin plays the world's worst Sex Ed teacher as this explanation of sexuality, gender and consent gets more and more off-script! Hint – a 'maiden' isn't 'a girl who milks cows'…
Our special guest, slam sensation Megan Beech, brings her trademark explorations of vulnerability and twenty-first-century feminism, as seen in her critically acclaimed collections When I Grow Up I Want To Be Mary Beard and You Sad Feminist.
Poetry books will be available to buy on the night.