No tickets are currently available.
Dynamic Pricing
ARC's policy is to set ticket prices based on demand, like budget airlines, which means we set a price when the event goes on sale and then sometimes put the price up or down depending on how the show is selling. Usually, the price will increase as we get closer to the event, so it is advantageous to book in advance, although sometimes we will put special offers on and reduce the price. Our website will always show the current ticket price.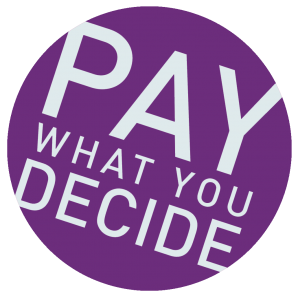 ARC's theatre and dance performances are priced on a Pay What You Decide basis, which means you don't have to pay until after you have seen a show!
We want to encourage more people to come and see shows at ARC, more often. Pay What You Decide not only allows you to pay what you can afford, rather than a fixed ticket price, but also removes the financial risk of buying a ticket for a show in advance without knowing whether you are going to enjoy it or not.
Tickets are available to book in advance as usual, but there is no obligation for you to pay until after you have seen the show. You can then decide on a price which you think is suitable based on your experience, which means if you haven't enjoyed it at all, you don't have to pay anything.
All money collected will help ARC pay the artists who have performed, and we therefore hope you will give generously.
Please ensure you have arrived and collected your tickets 15 minutes before the show starts in order to secure your seats. At the end of the show, you can decide what to pay, either by cash on the door or by card at the Box Office.
General Prices: Pay What You Decide
Pay What You Decide
Seating: Unreserved seated
Celebrate the  50th anniversary of the Moon Landings with the Deranged Poetesses, as they blend poetry, performance, music and projected visuals on the theme of Space | Exploration. This unique event brings together female and non-binary performers from across the north, including;
Keisha Thompson – Lunar
A mixture of song, poetry and loop pedalling explores an unusual father-daughter relationship through the semantic field of space exploration and afro-futurism. Using material from her book, Lunar, Keisha journeys through space and time to answer questions about family love and mental health.
Isabelle Kenyon – 64 High-Flying Women
There are 64 women who have flown in to space, 37 of whom have spent time on board the International Space Station. In 13 minutes and 40 slides, Isabelle will tell you the story of every one!
Katrina Porteous – Field
Field is an astonishing journey marrying live poetry, specially-composed music, cutting-edge science and real space photographs, to explore the strange quantum worlds created at the Big Bang.
Hannah Lasagne – Escape Velocity
Star Trek was cancelled, but after the first moon landing the show became an overnight success. Meanwhile, Hannah was stuck on Earth, yearning for her own escape velocity – but the most complex technology she owned was an Etch-A-Sketch.
Lisa Louise Lovebucket – If We Knew Why, We Wouldn't Be Doing It
When Lisa joined a pilgrimage from the Cerne Abbas Giant in Dorset to the Super Hadron Collider in CERN in an attempt to re-set the universe, she had no idea that it would involve rituals involving wizards, time dancers, false teeth, sperm hats, and sending an interpretive dance into space.
Katie Greenbrown – Stargazers
She's the dealer daughter of the God of this god-awful mess. He has a PhD in Astro-Physics and the street-sav of an eight-year-old. This Postmodern Love Story is an epic tale of love, loss and star gazing set among the tower blocks of a half-imagined future.