No tickets are currently available.
Dynamic Pricing
ARC's policy is to set ticket prices based on demand, like budget airlines, which means we set a price when the event goes on sale and then sometimes put the price up or down depending on how the show is selling. Usually, the price will increase as we get closer to the event, so it is advantageous to book in advance, although sometimes we will put special offers on and reduce the price. Our website will always show the current ticket price.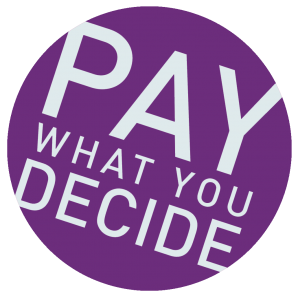 ARC's theatre and dance performances are priced on a Pay What You Decide basis, which means you don't have to pay until after you have seen a show!
We want to encourage more people to come and see shows at ARC, more often. Pay What You Decide not only allows you to pay what you can afford, rather than a fixed ticket price, but also removes the financial risk of buying a ticket for a show in advance without knowing whether you are going to enjoy it or not.
Tickets are available to book in advance as usual, but there is no obligation for you to pay until after you have seen the show. You can then decide on a price which you think is suitable based on your experience, which means if you haven't enjoyed it at all, you don't have to pay anything.
All money collected will help ARC pay the artists who have performed, and we therefore hope you will give generously.
Please ensure you have arrived and collected your tickets 15 minutes before the show starts in order to secure your seats. At the end of the show, you can decide what to pay, either by cash on the door or by card at the Box Office.
General Prices: Free
Seating: Unreserved seated
Ages: 14+
Women and non-binary poets, and their poeting friends, are invited to a special afternoon of activities. Babes in arms are welcome, and a private space is available for feeding, changing and crashing out if needed.
In this poetry workshop Carmen Marcus will tap into the daily rituals that mothers create in the home, from food to fashion, to inspire new writing and perspectives on the influence of our mother's on our language and identity.
This workshop forms part of a series of activities for Carmen Marcus's ACE funded project The Book of Godless Verse. This project will culminate in an anthology celebrating the messiness of everyday life and the rituals we handmade to deal with it. You can find out more at https://thebookofgodlessverse.wordpress.com
Carmen Marcus is a performance poet and author from Saltburn by the Sea. Her poetry has been commissioned by BBC Radio, Durham Book Festival and The Royal Festival Hall. Her debut novel HOW SAINTS DIE, was published with Harvill Secker in 2017 and has been longlisted for the Desmond Elliott Prize.
Other activities happening on this afternoon that you may be interested in are Deranged Poetesses: Mother Tongues by Victoria Adukwei Bulley, a set of four films about acclaimed women poets of colour and the women who nurtured them, and Deranged Poetesses: Are the sisters doing it for themselves?, a round-table discussion with poet and PhD student Katie Ailes. Check them out!
And of course don't forget the main event, Deranged Poetesses: Mothers, happening on Saturday evening!