No tickets are currently available.
Dynamic Pricing
ARC's policy is to set ticket prices based on demand, like budget airlines, which means we set a price when the event goes on sale and then sometimes put the price up or down depending on how the show is selling. Usually, the price will increase as we get closer to the event, so it is advantageous to book in advance, although sometimes we will put special offers on and reduce the price. Our website will always show the current ticket price.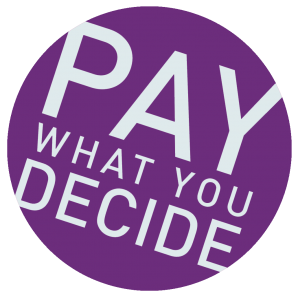 ARC's theatre and dance performances are priced on a Pay What You Decide basis, which means you don't have to pay until after you have seen a show!
We want to encourage more people to come and see shows at ARC, more often. Pay What You Decide not only allows you to pay what you can afford, rather than a fixed ticket price, but also removes the financial risk of buying a ticket for a show in advance without knowing whether you are going to enjoy it or not.
Tickets are available to book in advance as usual, but there is no obligation for you to pay until after you have seen the show. You can then decide on a price which you think is suitable based on your experience, which means if you haven't enjoyed it at all, you don't have to pay anything.
All money collected will help ARC pay the artists who have performed, and we therefore hope you will give generously.
Please ensure you have arrived and collected your tickets 15 minutes before the show starts in order to secure your seats. At the end of the show, you can decide what to pay, either by cash on the door or by card at the Box Office.
General Prices: All tickets £4 + £0.10 booking fee
All tickets £4 + £0.10 booking fee
Duration: 1hr 44mins
Ryan Reynolds stars in the first-ever live-action Pokemon adventure as Pikachu, the iconic face of the global Pokemon phenomenon-one of the world's most popular, multi-generation entertainment properties and the most successful media franchise of all time.
The story begins when ace detective Harry Goodman goes mysteriously missing, prompting his 21-year-old son Tim (Justice Smith) to find out what happened. Aiding in the investigation is Harry's former Pokemon partner, Detective Pikachu (Ryan Reynolds): a hilariously wise-cracking, adorable super-sleuth who is a puzzlement even to himself. Finding that they are uniquely equipped to work together, as Tim is the only human who can talk with Pikachu, they join forces on a thrilling adventure to unravel the tangled mystery. Chasing clues together through the neon-lit streets of Ryme City-a sprawling, modern metropolis where humans and Pokemon live side by side in a hyper-realistic live-action world-they encounter a diverse cast of Pokemon characters and uncover a shocking plot that could destroy this peaceful co-existence and threaten the whole Pokemon universe.
Audio description is available with screenings of Detective Pikachu.