No tickets are currently available.
Dynamic Pricing
ARC's policy is to set ticket prices based on demand, like budget airlines, which means we set a price when the event goes on sale and then sometimes put the price up or down depending on how the show is selling. Usually, the price will increase as we get closer to the event, so it is advantageous to book in advance, although sometimes we will put special offers on and reduce the price. Our website will always show the current ticket price.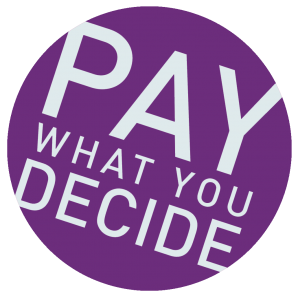 ARC's theatre and dance performances are priced on a Pay What You Decide basis, which means you don't have to pay until after you have seen a show!
We want to encourage more people to come and see shows at ARC, more often. Pay What You Decide not only allows you to pay what you can afford, rather than a fixed ticket price, but also removes the financial risk of buying a ticket for a show in advance without knowing whether you are going to enjoy it or not.
Tickets are available to book in advance as usual, but there is no obligation for you to pay until after you have seen the show. You can then decide on a price which you think is suitable based on your experience, which means if you haven't enjoyed it at all, you don't have to pay anything.
All money collected will help ARC pay the artists who have performed, and we therefore hope you will give generously.
Please ensure you have arrived and collected your tickets 15 minutes before the show starts in order to secure your seats. At the end of the show, you can decide what to pay, either by cash on the door or by card at the Box Office.
General Prices: £22.50 + £0.10 booking fee per ticket
Seating: Reserved seated
"I say to people, have you heard of John Cooper Clarke and if they say, yes, yeah he's an absolute genius and you just go, 'oh – ok, you've saved me a lot of time" Steve Coogan
John Cooper Clarke shot to prominence in the 1970s as the original 'people's poet'.Since then his career has spanned cultures, audiences, art forms and continents.
Today, JCC is as relevant and vibrant as ever, and his influence just as visible on today's pop culture. Aside from his trademark 'look' continuing to resonate with fashionistas young and old, and his poetry included on national curriculum syllabus, his effect on modern music is huge.
His influence can be heard within the keen social observations of the Arctic Monkeys and Plan B. These collaborations mean that John has been involved in 2 recent global number 1 albums – with The Arctic Monkeys putting one of John's best loved poems, I Wanna Be Yours, to music on their critically acclaimed A:M Album
His latest show, touring across the UK, USA, Canada & Australasia, is a mix of classic verse, extraordinary new material, hilarious ponderings on modern life, good honest gags, riffs and chat – a chance to witness a living legend at the top of this game.
Belly laughs aren't as good on an empty stomach!
You don't want to worry about your rumbling tummy heckling your favourite act. With a range of pre-show dining options at No 60 you won't have to.
Eat in our modern cafe bar and indulge in a filling meal from our menu, with something to suit any appetite. Our bistro menu has a new range of special dishes every month, and uses the best seasonal ingredients.
Contact a member of the No 60 team via [email protected] today to reserve your table.