No tickets are currently available.
Dynamic Pricing
ARC's policy is to set ticket prices based on demand, like budget airlines, which means we set a price when the event goes on sale and then sometimes put the price up or down depending on how the show is selling. Usually, the price will increase as we get closer to the event, so it is advantageous to book in advance, although sometimes we will put special offers on and reduce the price. Our website will always show the current ticket price.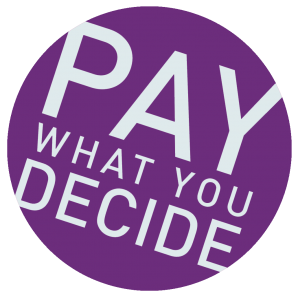 ARC's theatre and dance performances are priced on a Pay What You Decide basis, which means you don't have to pay until after you have seen a show!
We want to encourage more people to come and see shows at ARC, more often. Pay What You Decide not only allows you to pay what you can afford, rather than a fixed ticket price, but also removes the financial risk of buying a ticket for a show in advance without knowing whether you are going to enjoy it or not.
Tickets are available to book in advance as usual, but there is no obligation for you to pay until after you have seen the show. You can then decide on a price which you think is suitable based on your experience, which means if you haven't enjoyed it at all, you don't have to pay anything.
All money collected will help ARC pay the artists who have performed, and we therefore hope you will give generously.
Please ensure you have arrived and collected your tickets 15 minutes before the show starts in order to secure your seats. At the end of the show, you can decide what to pay, either by cash on the door or by card at the Box Office.
Seating: Allocated - See Seating Plan for More Details
Director
David Alaux
Cast
Kaycie Chase
Epic Tails tells the story of super smart mouse Pattie and her feline friend Sam, as they embark upon an exciting adventure of paw-some proportions through Ancient Greece. With a little help from ageing hero Jason, the animals' quest brings them face to face with some the most bizarre and dangerous creatures from Greek mythology, as they race to halt the threat posed to their city by Poseidon himself. A hilarious and inventive comedy adventure for the whole family. The film features the special guest voices of Rob Beckett, Giovanna Fletcher and Josh Widdicombe as the many Gods of Mount Olympus, including Zeus, Poseidon and Aphrodite.
These screenings are relaxed, designed for people with Autism.
BBFC Ratings Info (May Contain Spoilers)

Violence

Scenes include slapstick fights with some blows landing; a cat scratching a cyclops' buttocks; and a hydra's heads being chopped off before they regrow and multiply.

Threat and horror

There are sequences of threat in which the giant gods, monsters and robots loom over the small heroes, threaten to destroy cities, eat people, or crush them with rocks. However, the threat is often undercut by humour, is brief, or the threatening being is revealed to be friendly. A rat briefly brandishes a shard of glass like a knife, but is told off.

Discrimination

An elderly bird character refers to the mouse hero as 'girlie' on multiple occasions, but doesn't appear to do so in an overtly condescending manner.

Rude humour

There are snot and vomit jokes, along with comic buttock nudity.

Theme

There are scenes in which characters become upset with one another, but such relationships have positive resolutions.

Seating Accessibility Information

Cinema

Seat size

Seats in the Cinema are 45cm (172/3") wide and 46cm (18") deep, are 40cm (152/3") from the floor, and have 12cm (42/3") between seats.

Armrests

Seats in the Cinema have armrests that do not fold away, and cannot be completely removed.

Legroom

Seats in the cinema have 30cm (112/3") of legroom in front of seats, with additional legroom on row A and seats B1-B4 and B11-B14.

Further information

If you have any questions about accessibility our Box Office team are always happy to help and can be contacted on 01642 525199 or by emailing [email protected] - you can also tell us about your access requirements when prompted to do so during the online booking process.