No tickets are currently available.
Dynamic Pricing Info
Dynamic Pricing
ARC's policy is to set ticket prices based on demand, like budget airlines, which means we set a price when the event goes on sale and then sometimes put the price up or down depending on how the show is selling. Usually, the price will increase as we get closer to the event, so it is advantageous to book in advance, although sometimes we will put special offers on and reduce the price. Our website will always show the current ticket price.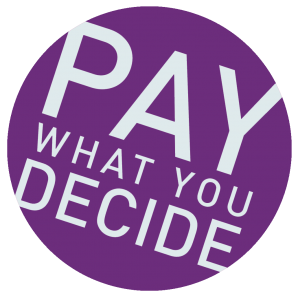 ARC's theatre and dance performances are priced on a Pay What You Decide basis, which means you don't have to pay until after you have seen a show!
We want to encourage more people to come and see shows at ARC, more often. Pay What You Decide not only allows you to pay what you can afford, rather than a fixed ticket price, but also removes the financial risk of buying a ticket for a show in advance without knowing whether you are going to enjoy it or not.
Tickets are available to book in advance as usual, but there is no obligation for you to pay until after you have seen the show. You can then decide on a price which you think is suitable based on your experience, which means if you haven't enjoyed it at all, you don't have to pay anything.
All money collected will help ARC pay the artists who have performed, and we therefore hope you will give generously.
Please ensure you have arrived and collected your tickets 15 minutes before the show starts in order to secure your seats. At the end of the show, you can decide what to pay, either by cash on the door or by card at the Box Office.
Seating: Standing and Allocated Seating
Please note that this gig was originally meant to be taking place on Thur 10 Feb, it will now taking place Fri 13 May.
Fairport Convention have been entertaining music lovers for over half a century, with 2022 being their 55th anniversary! During that time the band that launched British folk-rock has seen many changes, but one thing has remained the same – Fairport's passion for performance.
This year's tour will present a mix of long-established Fairport favourites and some surprises from albums old and new including their latest album, Shuffle & Go, which was released just before 'lockdown' in 2020.
Fairport Convention have won a BBC Lifetime Achievement Award and Radio2 listeners voted their ground-breaking album Liege & Lief 'The Most Influential Folk Album of All Time'. Their story has been celebrated with television documentaries on BBC Four and Sky Arts.
The band features founding member Simon Nicol on guitar and vocals, Dave Pegg on bass guitar, Ric Sanders on violin, Chris Leslie on fiddle, mandolin and vocals, and Gerry Conway on drums and percussion. Special Guest for the Tour is Singer / Songwriter – Luke Jackson. Luke is a wonderful performer gaining much recognition for his recorded work as well as touring the UK, Europe, and America relentlessly.
"Fairport is an institution, a festival, purveyors of memories, and keepers of the folk flame. But most of all they are a brilliant live band." – Folk & Tumble
Visit Fairport Convention's website
Follow Fairport Convention on Twitter
Like Fairport Convention on Facebook
Follow Fairport Convention on Instagram