Dynamic Pricing
ARC's policy is to set ticket prices based on demand, like budget airlines, which means we set a price when the event goes on sale and then sometimes put the price up or down depending on how the show is selling. Usually, the price will increase as we get closer to the event, so it is advantageous to book in advance, although sometimes we will put special offers on and reduce the price. Our website will always show the current ticket price.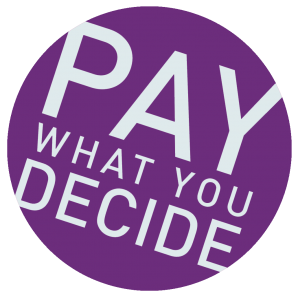 ARC's theatre and dance performances are priced on a Pay What You Decide basis, which means you don't have to pay until after you have seen a show!
We want to encourage more people to come and see shows at ARC, more often. Pay What You Decide not only allows you to pay what you can afford, rather than a fixed ticket price, but also removes the financial risk of buying a ticket for a show in advance without knowing whether you are going to enjoy it or not.
Tickets are available to book in advance as usual, but there is no obligation for you to pay until after you have seen the show. You can then decide on a price which you think is suitable based on your experience, which means if you haven't enjoyed it at all, you don't have to pay anything.
All money collected will help ARC pay the artists who have performed, and we therefore hope you will give generously.
Please ensure you have arrived and collected your tickets 15 minutes before the show starts in order to secure your seats. At the end of the show, you can decide what to pay, either by cash on the door or by card at the Box Office.
Farrell Cox is using her time at ARC to develop Ambivalence which is an aerial circus autobiographical piece which draws upon her own personal experiences living with psychosis and as a black queer woman navigating through the world.
About Farrell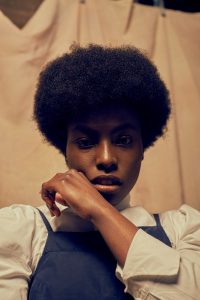 Farrell Cox is a black British actress, aerialist theatre maker and solo performer, specialising in Tippy hoop, wirework/harness and physical theatre. She has trained at Dell Arte International, East15 Acting School and with renowned clown Philippe Gaulier. She has had the opportunity to perform nationally and internationally in her career.
Farrell has worked with companies including Glyndebourne opera, The RSC, Hot Brown Honey, Mimbre Acrobats, HBO, Samsung, Les Enfants Terribles and London Olympic 2012 Ceremonies.
Using her versatility as a dancer, clown and aerialist to captivate the audience, she brings lightness and humour into her work and is always enthusiastic to explore a variety of narratives using physical theatre. Inspired by grand guignol and dark comedy her aim is always to tell the truth within a narrative, not shy away from the harrowing parts but allow the lightness and humour to be brought forward. Creating performance excites her as a tool of self-help and representation to encourage others.