No tickets are currently available.
Running time: 92 minutes
Dynamic Pricing
ARC's policy is to set ticket prices based on demand, like budget airlines, which means we set a price when the event goes on sale and then sometimes put the price up or down depending on how the show is selling. Usually, the price will increase as we get closer to the event, so it is advantageous to book in advance, although sometimes we will put special offers on and reduce the price. Our website will always show the current ticket price.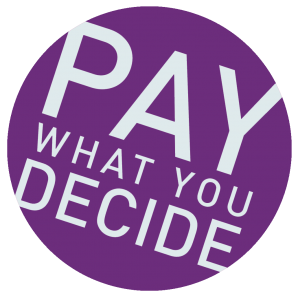 ARC's theatre and dance performances are priced on a Pay What You Decide basis, which means you don't have to pay until after you have seen a show!
We want to encourage more people to come and see shows at ARC, more often. Pay What You Decide not only allows you to pay what you can afford, rather than a fixed ticket price, but also removes the financial risk of buying a ticket for a show in advance without knowing whether you are going to enjoy it or not.
Tickets are available to book in advance as usual, but there is no obligation for you to pay until after you have seen the show. You can then decide on a price which you think is suitable based on your experience, which means if you haven't enjoyed it at all, you don't have to pay anything.
All money collected will help ARC pay the artists who have performed, and we therefore hope you will give generously.
Please ensure you have arrived and collected your tickets 15 minutes before the show starts in order to secure your seats. At the end of the show, you can decide what to pay, either by cash on the door or by card at the Box Office.
Seating: Allocated - See Seating Plan for More Details
The screening on Wednesday 18 October 2pm will have descriptive subtitles.
Donya, a young Afghan who moved to Fremont, California after serving as a translator for the American army, spends her days working at a fortune cookie factory and her evenings wide awake. Donya can't sleep.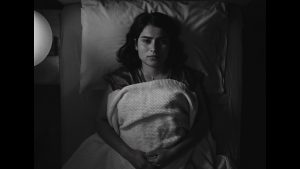 She spends her nights in a twin bed staring at the ceiling with the internal struggle for desire to rebuild her life teamed with the gut-wrenching guilt she holds within. Donya feels that a life full of love and enjoyment is unwarranted when so many Afghans live in a country plagued by war.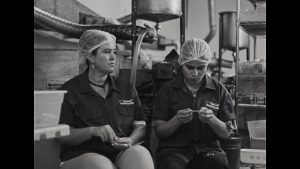 Donya's days exist with little stimulation, stringent routine, followed by an evening of lacklustre wakefulness. In an attempt to connect with the world, she sends an unconventional message through a fortune cookie "Desperate for a dream" with her name and number. Tinged with impassive humour, this sensitive immigrant tale contains a breakout performance by real-life refugee Anaita Wali Zada.
"utterly delightful Jarmuschian drama" – The Guardian ★★★★
"This is the kind of movie whose amiable directionlessness and romantic gentleness generate a lot of warmth; it's the kind of independent film which we haven't seen a lot of lately, endowed with intimacy and a kind of dreamy charm." – The Telegraph ★★★★
Sun Valley Film Festival- One In A Million Award Winner
Independent Film Festival of Boston- Grand Jury Prize Winner
Karlovy Vary International Film Festival- Best Director Winner
Deauvile Film Festival- Jury Prize Winner
Director: Babak Jalali
Cast: Anaita Wali Zada, Jeremy Allen White, Gregg Turkington
Information about screenings with descriptive subtitles

Descriptive subtitles, sometimes referred to as subtitles for D/deaf and hard-of-hearing people or captions, transcribe dialogue and relevant aspects of the soundtrack, including music and sound effects, attempting to give D/deaf and hard-of-hearing viewers an equal experience to those who are able to watch films without descriptive subtitles. Descriptive subtitles would include speech identifiers and descriptive elements such as [door slamming] and [kettle whistling].

Seating accessibility information

Cinema

Seat size

Seats in the Cinema are 45cm (172/3") wide and 46cm (18") deep, are 40cm (152/3") from the floor, and have 12cm (42/3") between seats.

Armrests

Seats in the Cinema have armrests that do not fold away, and cannot be completely removed.

Legroom

Seats in the cinema have 30cm (112/3") of legroom in front of seats, with additional legroom on row A and seats B1-B4 and B11-B14.

Further information

If you have any questions about accessibility our Box Office team are always happy to help and can be contacted on 01642 525199 or by emailing [email protected] - you can also tell us about your access requirements when prompted to do so during the online booking process.

BBFC Rating information (may contain spoilers)

Language

There is infrequent use of strong language ('motherf**ker'), as well as other terms such as 'asshole' and 'dipstick'.

Sex

There are infrequent, very mild sex references.

Theme

It is implied that a psychiatrist believes PTSD is responsible for the inability to sleep of an Afghan with experiences of war. The Afghan talks in undetailed terms about the deaths of friends, and threats made against her family.