No tickets are currently available.
Dynamic Pricing
ARC's policy is to set ticket prices based on demand, like budget airlines, which means we set a price when the event goes on sale and then sometimes put the price up or down depending on how the show is selling. Usually, the price will increase as we get closer to the event, so it is advantageous to book in advance, although sometimes we will put special offers on and reduce the price. Our website will always show the current ticket price.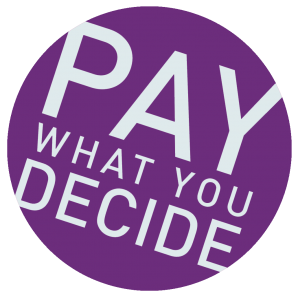 ARC's theatre and dance performances are priced on a Pay What You Decide basis, which means you don't have to pay until after you have seen a show!
We want to encourage more people to come and see shows at ARC, more often. Pay What You Decide not only allows you to pay what you can afford, rather than a fixed ticket price, but also removes the financial risk of buying a ticket for a show in advance without knowing whether you are going to enjoy it or not.
Tickets are available to book in advance as usual, but there is no obligation for you to pay until after you have seen the show. You can then decide on a price which you think is suitable based on your experience, which means if you haven't enjoyed it at all, you don't have to pay anything.
All money collected will help ARC pay the artists who have performed, and we therefore hope you will give generously.
Please ensure you have arrived and collected your tickets 15 minutes before the show starts in order to secure your seats. At the end of the show, you can decide what to pay, either by cash on the door or by card at the Box Office.
Seating: Allocated - See Seating Plan for More Details
This screening is part of the Tees Valley International Film Festival.
Give Them Wings is based on the autobiography of disabled football fan Paul Hodgson. Diagnosed with childhood meningitis aged just 10 months, Paul's parents were told he would never move or speak.
Set in 1989, the film takes us through Paul's incredible journey of heartbreak, suffering, discrimination and love, recounting his struggle to care for his mother, his experience of the Community Care system, education and employment, the loyalty of his friends and finally finding acceptance with both his father and the wider world.
Paul's positivity shines through his story of fortitude in the face of severe odds and it offers a unique insight into what it means to be disabled in modern society. A hugely important film which encourages us to accept everybody for who they are, and not what they appear to be. Paul is now 55 years old and has gone on to become an award-winning film producer and screenwriter.
Awarded Best UK Feature and Best British Feature at the 2021 London Independant Film Awards, Give Them Wings follows in the footsteps of other real human interest stories which embrace the discrimination of the disabled and turn it on its head, such as My Left Foot, Billy Elliot, The Intouchables and I Daniel Blake.
Starring Bill Fellows (Coronation Street) and pop sensation Toyah Willcox.
This screening will be followed by a Q&A with the film's director Sean Cronin, writer Paul Hodgson and lead actors Daniel Watson and Jacob Anderton. They will also take part in an interview with BBC Radio Tees presenter Goffy to discuss the story of the film coming into being.
Seating Accessibility Information

Cinema

Seat size

Seats in the Cinema are 45cm (172/3") wide and 46cm (18") deep, are 40cm (152/3") from the floor, and have 12cm (42/3") between seats.

Armrests

Seats in the Cinema have armrests that do not fold away, and cannot be completely removed.

Legroom

Seats in the cinema have 30cm (112/3") of legroom in front of seats, with additional legroom on row A and seats B1-B4 and B11-B14.

Further information

If you have any questions about accessibility our Box Office team are always happy to help and can be contacted on 01642 525199 or by emailing [email protected] - you can also tell us about your access requirements when prompted to do so during the online booking process.

BBFC Ratings Info (May Contain Spoilers)

moderate bad language, violence, sex references, upsetting scenes