No tickets are currently available.
Dynamic Pricing
ARC's policy is to set ticket prices based on demand, like budget airlines, which means we set a price when the event goes on sale and then sometimes put the price up or down depending on how the show is selling. Usually, the price will increase as we get closer to the event, so it is advantageous to book in advance, although sometimes we will put special offers on and reduce the price. Our website will always show the current ticket price.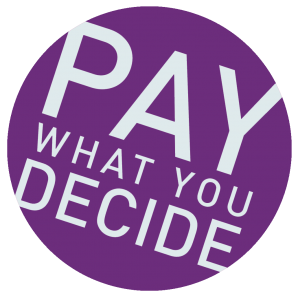 ARC's theatre and dance performances are priced on a Pay What You Decide basis, which means you don't have to pay until after you have seen a show!
We want to encourage more people to come and see shows at ARC, more often. Pay What You Decide not only allows you to pay what you can afford, rather than a fixed ticket price, but also removes the financial risk of buying a ticket for a show in advance without knowing whether you are going to enjoy it or not.
Tickets are available to book in advance as usual, but there is no obligation for you to pay until after you have seen the show. You can then decide on a price which you think is suitable based on your experience, which means if you haven't enjoyed it at all, you don't have to pay anything.
All money collected will help ARC pay the artists who have performed, and we therefore hope you will give generously.
Please ensure you have arrived and collected your tickets 15 minutes before the show starts in order to secure your seats. At the end of the show, you can decide what to pay, either by cash on the door or by card at the Box Office.
Seating: Allocated - See Seating Plan for More Details
Retired widow Nancy Stokes hires a good-looking young sex worker called Leo Grande, in the hope of enjoying a night of pleasure and self-discovery after an unfulfilling married life.
The screenings on Sat 9 Jul at 2pm, Wed 13 Jul at 2pm, and Thu 14 Jul at 7.30pm will have descriptive subtitles.
Audio Description is available with screenings of Good Luck to You, Leo Grande.
BBFC Ratings Info (May Contain Spoilers)

sex
There are frequent references to different sexual activities during scenes in which a sex worker engages with his client about what she would like them to do together. There are also scenes of strong sex in which a couple engage in several sex acts and have sex in varying sexual positions; the scenes include nudity.

language
There is use of strong language ('f**k'), accompanied by other milder terms ('pussy', 'slut', 'bloody', 'shit', 'bullshit', 'arsehole', 'sod', 'whore', 'Christ', 'God' and 'damn').

There are verbal references to sexual violence, but these lack explicit details.

Information about screenings with descriptive subtitles

Descriptive subtitles, sometimes referred to as subtitles for D/deaf and hard-of-hearing people or captions, transcribe dialogue and relevant aspects of the soundtrack, including music and sound effects, attempting to give D/deaf and hard-of-hearing viewers an equal experience to those who are able to watch films without descriptive subtitles. Descriptive subtitles would include speech identifiers and descriptive elements such as [door slamming] and [kettle whistling].

Information about screenings with Audio Description

Audio description is commentary that aims to describe body language, expressions and movements to blind or visually impaired audience members, thereby offering additional information about the film through sound. Our cinema is equipped with a system that delivers audio description through a headset. The audio description runs each time the film is shown and is undetectable to anyone not wearing a headset.

Many of our cinema screenings have an audio description facility. If you would like to use it when visiting our cinema, please let the Box Office know when booking your tickets. You can also let us know this by using the access requirements box when booking online.