No tickets are currently available.
Dynamic Pricing
ARC's policy is to set ticket prices based on demand, like budget airlines, which means we set a price when the event goes on sale and then sometimes put the price up or down depending on how the show is selling. Usually, the price will increase as we get closer to the event, so it is advantageous to book in advance, although sometimes we will put special offers on and reduce the price. Our website will always show the current ticket price.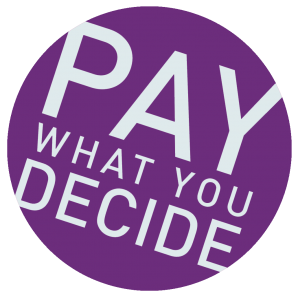 ARC's theatre and dance performances are priced on a Pay What You Decide basis, which means you don't have to pay until after you have seen a show!
We want to encourage more people to come and see shows at ARC, more often. Pay What You Decide not only allows you to pay what you can afford, rather than a fixed ticket price, but also removes the financial risk of buying a ticket for a show in advance without knowing whether you are going to enjoy it or not.
Tickets are available to book in advance as usual, but there is no obligation for you to pay until after you have seen the show. You can then decide on a price which you think is suitable based on your experience, which means if you haven't enjoyed it at all, you don't have to pay anything.
All money collected will help ARC pay the artists who have performed, and we therefore hope you will give generously.
Please ensure you have arrived and collected your tickets 15 minutes before the show starts in order to secure your seats. At the end of the show, you can decide what to pay, either by cash on the door or by card at the Box Office.
Directors
Guillermo del Toro, Mark Gustafson
Cast
Gregory Mann, Ewan McGregor, Finn Wolfhard, Ron Perlman, David Bradley, Tilda Swinton, Cate Blanchett, Christoph Waltz
A father's wish magically brings a wooden boy to life in Italy, giving him a chance to care for the child. Academy Award®-winning filmmaker Guillermo del Toro reinvents Carlo Collodi's classic tale of the wooden marionette who is magically brought to life in order to mend the heart of a grieving woodcarver named Geppetto. This whimsical, stop-motion musical directed by Guillermo del Toro and Mark Gustafson follows the mischievous and disobedient adventures of Pinocchio in his pursuit of a place in the world.
Both screenings are relaxed for people living with Autism.
BBFC Ratings Info (May Contain Spoilers)

language

There is mild bad language ('frigging', 'bugger'), as well as milder terms such as 'oh my God'.

rude humour

The lyrics of a comic song contain repeated references to pooping, farting and smelling bottoms as a poo-shaped puppet joins in with the dancing.

threat and horror

There are scary scenes in which characters face danger, including being swallowed by a sea monster and being tied up as a bonfire is lit under them. There are also moments of threat from guns, swordsticks and explosive devices. These scenes are occasionally prolonged, but an emphasis is placed on courage and resourcefulness as the characters help one another in their efforts to save themselves, and to achieve reassuring outcomes.

violence

A man beats and kicks a monkey and cuts off the tip of Pinocchio's wooden nose with a swordstick. Child characters are forced to take part in wargames with paint guns. A man is shot in the face with a pellet from a paint gun, and a character falls to his death after a monkey claws at his face to save the friends he is endangering. In a scene of war violence a child character is killed in undetailed fashion when a bomb falls onto a church. The character of Pinocchio dies several deaths, but as part of one of the film's fantastical themes is returned to life each time.

There are upsetting scenes of grieving embedded in the film's exploration of themes of death and mortality, which are handled in a manner that is accessible to children. The film also contains references to fascism, which is not condoned but held up to mockery and condemnation.

Seating Accessibility Information

Cinema

Seat size

Seats in the Cinema are 45cm (172/3") wide and 46cm (18") deep, are 40cm (152/3") from the floor, and have 12cm (42/3") between seats.

Armrests

Seats in the Cinema have armrests that do not fold away, and cannot be completely removed.

Legroom

Seats in the cinema have 30cm (112/3") of legroom in front of seats, with additional legroom on row A and seats B1-B4 and B11-B14.

Further information

If you have any questions about accessibility our Box Office team are always happy to help and can be contacted on 01642 525199 or by emailing [email protected] - you can also tell us about your access requirements when prompted to do so during the online booking process.