No tickets are currently available.
Dynamic Pricing
ARC's policy is to set ticket prices based on demand, like budget airlines, which means we set a price when the event goes on sale and then sometimes put the price up or down depending on how the show is selling. Usually, the price will increase as we get closer to the event, so it is advantageous to book in advance, although sometimes we will put special offers on and reduce the price. Our website will always show the current ticket price.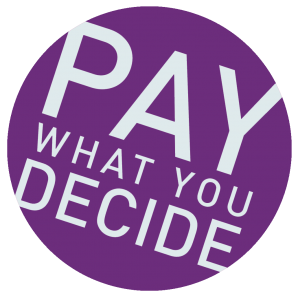 ARC's theatre and dance performances are priced on a Pay What You Decide basis, which means you don't have to pay until after you have seen a show!
We want to encourage more people to come and see shows at ARC, more often. Pay What You Decide not only allows you to pay what you can afford, rather than a fixed ticket price, but also removes the financial risk of buying a ticket for a show in advance without knowing whether you are going to enjoy it or not.
Tickets are available to book in advance as usual, but there is no obligation for you to pay until after you have seen the show. You can then decide on a price which you think is suitable based on your experience, which means if you haven't enjoyed it at all, you don't have to pay anything.
All money collected will help ARC pay the artists who have performed, and we therefore hope you will give generously.
Please ensure you have arrived and collected your tickets 15 minutes before the show starts in order to secure your seats. At the end of the show, you can decide what to pay, either by cash on the door or by card at the Box Office.
Director
Andy Fickman
Cast
Ailsa Davidson, Simon Gordon, Maddison Firth, Vivian Panka, Teleri Hughes, Mhairi Angus, Hannah Lowther
Based on the 1989 cult classic film starring Winona Ryder and Christian Slater, and recorded live in its original London home, The Other Palace, this award-winning musical follows Westerberg High student Veronica Sawyer, whose dreams of popularity finally start to come true when she's taken under the wings of the three beautiful, yet impossibly cruel Heathers. But when mysterious new kid, teen rebel J.D arrives in town, Veronica realises that whilst it might kill to be a nobody, it's murder being a somebody…
Wickedly funny, with dazzling book, music and lyrics by Tony Award-nominated, Legally Blonde composer, Laurence O'Keefe, and Emmy-winning Reefer Madness author Kevin Murphy, Heathers the Musical is directed by acclaimed screen and stage director Andy Fickman, with electrifying choreography by Thriller Live's Gary Lloyd. How very.
Seating Accessibility Information

Cinema

Seat size

Seats in the Cinema are 45cm (172/3") wide and 46cm (18") deep, are 40cm (152/3") from the floor, and have 12cm (42/3") between seats.

Armrests

Seats in the Cinema have armrests that do not fold away, and cannot be completely removed.

Legroom

Seats in the cinema have 30cm (112/3") of legroom in front of seats, with additional legroom on row A and seats B1-B4 and B11-B14.

Further information

If you have any questions about accessibility our Box Office team are always happy to help and can be contacted on 01642 525199 or by emailing [email protected] - you can also tell us about your access requirements when prompted to do so during the online booking process.

BBFC Ratings Info (May Contain Spoilers)

Violence

Moderate violence is impressionistic, depicting undetailed punch-ups and shootings. A teenage girl is tricked into drinking bleach, resulting in her death.

Language

There is infrequent use of strong language ('f**k'). There is more frequent moderate bad language ('bitch', 'pussy', 'slut', 'whore', 'screwing'), accompanied by other milder terms ('shit', 'bullshit', 'son of a bitch', 'balls', 'ass', 'asshole', 'piss', 'crap', 'dick', 'son of a bitch', 'frickin", 'butt', 'hell', 'Jesus', 'God' and 'damn'). There is use of the middle finger gesture.

Sex

Two teenage characters have sex, with a focus on theatrical thrusting movements. There are also crude verbal references to sexual activity, such as beastiality, oral sex and masturbation. Pornography is also mentioned but references are undetailed.

Discrimination

High school students express various discriminatory attitudes towards other social groups, including the LGBTQ+ community. Discriminatory terms include 'homo', 'fag', 'sissy', 'pansy' and 'cripple'. The work as a whole does not condone discriminatory attitudes.

Drugs

There are verbal and visual references to drug taking, such as joint smoking and cocaine use. Addiction and overdose are talked about in a metaphorical sense. There are also scenes of teen partying and drinking.

Sexual violence and sexual threat

A female student is trapped by two male students, who attempt to rape her, but she manages to escape. In a later scene, the female student takes revenge by luring the two boys with the promise of sex and they strip down to their underwear.

Suicide

A series of murders are disguised as suicides. The narrative satirises the response of the teachers and how the issue is misinterpreted by some students, inspiring one girl to attempt to take her own life. In one scene, a character feigns her own suicide. The work as a whole does not condone or glamorise suicide.

Theme

There are scenes of bullying among high school students belonging to different cliques, often leading to scenes of emotional upset. Insensitive comments are made about a girl's eating disorder.

Flashing/flicking lights

This work contains flashing images which may affect viewers who are susceptible to photosensitive epilepsy.