Dynamic Pricing
ARC's policy is to set ticket prices based on demand, like budget airlines, which means we set a price when the event goes on sale and then sometimes put the price up or down depending on how the show is selling. Usually, the price will increase as we get closer to the event, so it is advantageous to book in advance, although sometimes we will put special offers on and reduce the price. Our website will always show the current ticket price.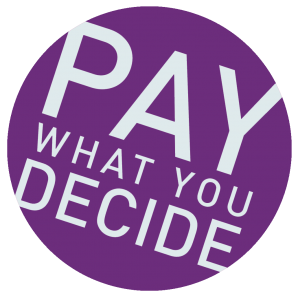 ARC's theatre and dance performances are priced on a Pay What You Decide basis, which means you don't have to pay until after you have seen a show!
We want to encourage more people to come and see shows at ARC, more often. Pay What You Decide not only allows you to pay what you can afford, rather than a fixed ticket price, but also removes the financial risk of buying a ticket for a show in advance without knowing whether you are going to enjoy it or not.
Tickets are available to book in advance as usual, but there is no obligation for you to pay until after you have seen the show. You can then decide on a price which you think is suitable based on your experience, which means if you haven't enjoyed it at all, you don't have to pay anything.
All money collected will help ARC pay the artists who have performed, and we therefore hope you will give generously.
Please ensure you have arrived and collected your tickets 15 minutes before the show starts in order to secure your seats. At the end of the show, you can decide what to pay, either by cash on the door or by card at the Box Office.
Conceived and edited by Andy Field & Beckie Darlington in collaboration with children from Billingham South Primary School. With music by Tom Parkinson.
IN THE YEAR 2072 is a short documentary film in which a group of children play themselves 50 years in the future, describing all the many ways that their town, and life in general, has changed in the years since they were young. In fake moustaches and flat caps, they tell stories of jet packs and chocolate factories, they describe growing old and offer their advice to their younger selves.
This gently imagined future creates a make-believe space in which the children can begin to reflect on their experience of this fraught moment in history, to place it into the context of the lives they plan to lead and the changes they think will happen in the world. Their imagined remembrances become a lens through which they and the viewer too can reflect both on the things we are living through and their own hopes and fears for the future.
To create the film Andy and Beckie worked with a group of children at Billingham South Community Primary School in the Borough of Stockton-on-Tees. Over the course of a week they explored a range of topics together, beginning first by imagining solutions to what they saw as their Billingham's biggest problems before going on to think about the challenges and disasters they and their town might and what face in the future and the children's aspirations for their own adults lives, all the things they hoped to do and the people they hoped to become.
You can watch the completed film here:
Andy Field and Beckie Darlington
Andy and Beckie collaborate with children and young people on creative projects that initiate new and different kinds of conversations between children and adults. These conversations explore how we live together and the roles we are all able to play within the life of our communities.
Their work is based in performance but has taken a range of forms. Some things they've done recently include collaborating with the children of internal migrant workers in Beijing to imagine a different future for their city, creating a social action collective with primary school children in St Helens, and working remotely with children across the Australia and New Zealand to make an audio-walk that takes place in the rain, exploring their experience of connection, localness and distance during the coronavirus pandemic.
Over the last eight years they have worked with a broad range of partners, including the 21st Century Museum of Contemporary Art Kanazawa, D-CAF Festival Cairo, Cultura Inglesa Brasil, Homo Novus Festival Riga, Manchester International Festival, the Museum of London, PuSh Festival Vancouver and Tauranga Arts Festival in New Zealand.
Central to all their work is the aim of creating playful and innovative new ways for adults and children to talk, think and imagine together. Spaces of compassion where new kinds of futures can be imagined.
Visit Andy and Beckie's website
Follow Andy and Beckie on Instagram