No tickets are currently available.
Running time: 80 minutes
Dynamic Pricing
ARC's policy is to set ticket prices based on demand, like budget airlines, which means we set a price when the event goes on sale and then sometimes put the price up or down depending on how the show is selling. Usually, the price will increase as we get closer to the event, so it is advantageous to book in advance, although sometimes we will put special offers on and reduce the price. Our website will always show the current ticket price.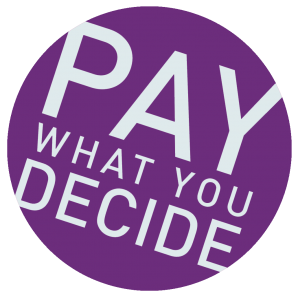 ARC's theatre and dance performances are priced on a Pay What You Decide basis, which means you don't have to pay until after you have seen a show!
We want to encourage more people to come and see shows at ARC, more often. Pay What You Decide not only allows you to pay what you can afford, rather than a fixed ticket price, but also removes the financial risk of buying a ticket for a show in advance without knowing whether you are going to enjoy it or not.
Tickets are available to book in advance as usual, but there is no obligation for you to pay until after you have seen the show. You can then decide on a price which you think is suitable based on your experience, which means if you haven't enjoyed it at all, you don't have to pay anything.
All money collected will help ARC pay the artists who have performed, and we therefore hope you will give generously.
Please ensure you have arrived and collected your tickets 15 minutes before the show starts in order to secure your seats. At the end of the show, you can decide what to pay, either by cash on the door or by card at the Box Office.
Seating: Allocated - See Seating Plan for More Details
A government whistle-blower and his up-front wife are sent to reside in an isolated house in Belgium.
Joined by two close protection officers as they await the arrival of a British journalist with the aim of telling their truth, but is the world ready for it?
Starring Tom Burke who featured in Robert Galbraith pseudonym J.K.Rowling's novel, adapted to a BBC crime series following detective Cormoran Strike.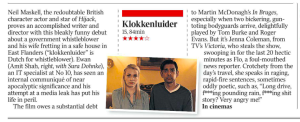 Film Stories- It's impressively assured stuff for Maskell's debut feature, and that it was all accomplished during lockdown in almost one single location is all the more remarkable. The tightrope scripts like this have to walk is a perilous one, but between Klokkenluider and All My Friends Hate Me, it's turning out to be a stellar year for the British indie comedy/thriller. ★★★★
Evening Standard- Klokkenluider' is the Flemish word for 'whistle-blower' and this film by actor-turned-director Neil Maskell is a darkly comic thriller celebrates those who fly under the radar. ★★★★
Critical Popcorn- Taut and tension-fuelled, disturbing yet watchable, setting up comfort and comedy alongside the unsettling whilst using the finest of thin lines….★★★★
The Crack Review- Maskell maintains a brisk pace over an economic 85-minute running time while summoning up a palpable sense of unease via charged, unsettling dialogue. The feeling of disorientation is augmented by Andy Shortwave's retro synth score and cinematographer Nick Gillespie's skewwhiff framing and oppressive rendering of the overcast Belgium skies. It's an oblique debut but a compelling one.
Director: Neil Maskell
Cast: Jenna Coleman, Tom Burke, Amit Shah
Seating accessibility information

Cinema

Seat size

Seats in the Cinema are 45cm (172/3") wide and 46cm (18") deep, are 40cm (152/3") from the floor, and have 12cm (42/3") between seats.

Armrests

Seats in the Cinema have armrests that do not fold away, and cannot be completely removed.

Legroom

Seats in the cinema have 30cm (112/3") of legroom in front of seats, with additional legroom on row A and seats B1-B4 and B11-B14.

Further information

If you have any questions about accessibility our Box Office team are always happy to help and can be contacted on 01642 525199 or by emailing [email protected] - you can also tell us about your access requirements when prompted to do so during the online booking process.

BBFC rating information (may contain spoilers)

Violence

There is a scene of strong violence featuring a shooting with resulting blood spurting detail. Dead bodies are shown lying in a small pool of blood during a darkly lit scene.

Threat and horror

There are occasional scenes of mild threat and suspense.

Language

Infrequent very strong language ('c**t') occurs, as well as more frequent use of strong language ('f**k') and other terms such as 'wanker', 'bugger', 'bloody', 'bastard', 'shit, 'pissed', 'hell' and 'God'.

Sex

Comic moderate sex references occur, including brief and wholly undetailed references to 'swinging' and 'dogging'.

Rude humour

Scenes of very mild rude humour include characters urinating outdoors.

Theme

References are made to the declining state of a character's mental health and he is urged to seek professional help.

Alcohol and tobacco

There are scenes of alcohol consumption and drunken behaviour involving adults.