No tickets are currently available.
Dynamic Pricing
ARC's policy is to set ticket prices based on demand, like budget airlines, which means we set a price when the event goes on sale and then sometimes put the price up or down depending on how the show is selling. Usually, the price will increase as we get closer to the event, so it is advantageous to book in advance, although sometimes we will put special offers on and reduce the price. Our website will always show the current ticket price.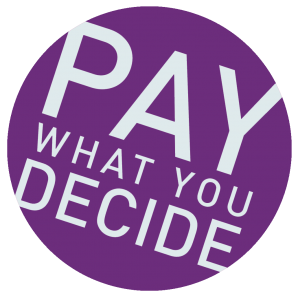 ARC's theatre and dance performances are priced on a Pay What You Decide basis, which means you don't have to pay until after you have seen a show!
We want to encourage more people to come and see shows at ARC, more often. Pay What You Decide not only allows you to pay what you can afford, rather than a fixed ticket price, but also removes the financial risk of buying a ticket for a show in advance without knowing whether you are going to enjoy it or not.
Tickets are available to book in advance as usual, but there is no obligation for you to pay until after you have seen the show. You can then decide on a price which you think is suitable based on your experience, which means if you haven't enjoyed it at all, you don't have to pay anything.
All money collected will help ARC pay the artists who have performed, and we therefore hope you will give generously.
Please ensure you have arrived and collected your tickets 15 minutes before the show starts in order to secure your seats. At the end of the show, you can decide what to pay, either by cash on the door or by card at the Box Office.
General Prices: £6 / Groups of 6 or more: £4.50 per person + £0.10 booking fee per ticket
Duration: 25 mins (no interval)
Seating: Reserved seated
A leaf is born…
It grows and glows in the sunshine and the rain
Then the wind blows and it becomes colder
The leaf changes colour
In the snow, the leaf falls…
But when spring comes, a new leaf grows…
Join us as we tell the life story of a very special leaf in this warm, intimate and playful new piece for under 3s inspired by nature and the seasons. Framed within an evocative soundscape, this is the perfect introduction to theatre for the very young.
Leaf is another heart-warming play created by Tam Tam Theatre, whose previous shows for very young children include Circles in the Sand and Curious. The company's founder, Marleen Vermeulen, created Leaf in collaboration with director Joy Haynes.
At the end of the performance, children are invited onto the stage to play among the leaves and explore a landscape created by the changing seasons.
#TamTamLeaf
Dynamic Pricing
We set ticket prices based on demand; the price can go up or down depending on how well a show is selling. The price will usually increase closer to the event date, so we always recommend booking in advance to take advantage of best price. You can read more about our dynamic pricing policy here.