No tickets are currently available.
Dynamic Pricing
ARC's policy is to set ticket prices based on demand, like budget airlines, which means we set a price when the event goes on sale and then sometimes put the price up or down depending on how the show is selling. Usually, the price will increase as we get closer to the event, so it is advantageous to book in advance, although sometimes we will put special offers on and reduce the price. Our website will always show the current ticket price.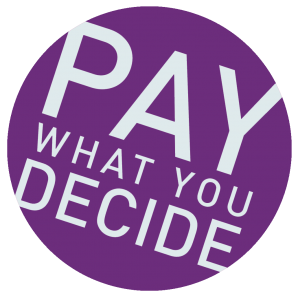 ARC's theatre and dance performances are priced on a Pay What You Decide basis, which means you don't have to pay until after you have seen a show!
We want to encourage more people to come and see shows at ARC, more often. Pay What You Decide not only allows you to pay what you can afford, rather than a fixed ticket price, but also removes the financial risk of buying a ticket for a show in advance without knowing whether you are going to enjoy it or not.
Tickets are available to book in advance as usual, but there is no obligation for you to pay until after you have seen the show. You can then decide on a price which you think is suitable based on your experience, which means if you haven't enjoyed it at all, you don't have to pay anything.
All money collected will help ARC pay the artists who have performed, and we therefore hope you will give generously.
Please ensure you have arrived and collected your tickets 15 minutes before the show starts in order to secure your seats. At the end of the show, you can decide what to pay, either by cash on the door or by card at the Box Office.
General Prices: Pay What You Decide
Seating: Unreserved seated
A storm is blowing.  Pip is outside on the lighthouse balcony, the freedom of the wind wrapped around her. Mona sits alone by the fire wondering what she has done to deserve this.
Mona's husband is missing, but their tenancy in the lighthouse and the home she fought for is at risk, so mother and daughter struggle to keep the lighthouse working, trying to cover up that he is gone.
Lighthouse is a poignant piece exploring both the power and limits of love. Against the storm, how will the two d/Deaf women's relationship survive being thrown between confinement and liberty?
Lighthouse is the third and final professional piece of disabled-led theatre commissioned by Cultural Shift, and written and directed by Vici Wreford-Sinnott. Vici's pioneering and critically acclaimed work aims to challenge perceptions of disabled people in contemporary British culture, and ask questions about the society we have become. More than holding up a mirror, her productions act as interventions in the cultural landscape. 
Lighthouse tells the story of a d/Deaf mother and daughter, exploring the tensions and comforts within, and is performed by two d/Deaf actors in both BSL and English, with additional interpretation. 
'Vici Wreford-Sinnott's ground-breaking play Butterfly takes flight…this accomplished play may just be the butterfly, which sparks the hurricane we need' – Disability Arts Online
'A challenging important play' – Northern Echo
'A gripping, thought provoking, superbly acted, emotionally engaging, full on 75 minutes' – Audience, ARC
'Inspiring, thought-provoking, mesmerising – we'll be talking about it for weeks to come.' – Audience, ARC
This performance is priced on a Pay What You Decide basis, click here to find out more.