Dynamic Pricing Info
Dynamic Pricing
ARC's policy is to set ticket prices based on demand, like budget airlines, which means we set a price when the event goes on sale and then sometimes put the price up or down depending on how the show is selling. Usually, the price will increase as we get closer to the event, so it is advantageous to book in advance, although sometimes we will put special offers on and reduce the price. Our website will always show the current ticket price.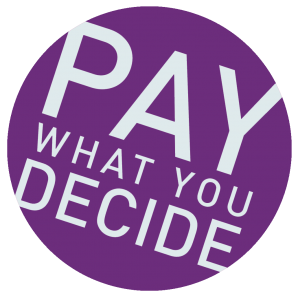 ARC's theatre and dance performances are priced on a Pay What You Decide basis, which means you don't have to pay until after you have seen a show!
We want to encourage more people to come and see shows at ARC, more often. Pay What You Decide not only allows you to pay what you can afford, rather than a fixed ticket price, but also removes the financial risk of buying a ticket for a show in advance without knowing whether you are going to enjoy it or not.
Tickets are available to book in advance as usual, but there is no obligation for you to pay until after you have seen the show. You can then decide on a price which you think is suitable based on your experience, which means if you haven't enjoyed it at all, you don't have to pay anything.
All money collected will help ARC pay the artists who have performed, and we therefore hope you will give generously.
Please ensure you have arrived and collected your tickets 15 minutes before the show starts in order to secure your seats. At the end of the show, you can decide what to pay, either by cash on the door or by card at the Box Office.
Seating: Allocated - See Seating Plan for More Details
Limehouse Lizzy continue to keep the spirit of Celtic rock icon Philip Lynott and his band Thin Lizzy alive and well and dominating stages worldwide. The band have also added a tribute into their show to ex-Thin Lizzy guitarist (and world renowned solo artist) Gary Moore.
From their Official PRS award, performing for Virgin Atlantic in Barbados, T.V. appearances (BBC 2's 'Arena' amongst others), and to actually being recruited to record and tour by members of the original Thin Lizzy, Limehouse Lizzy have just completed their 26th year with their most explosive show and critically-acclaimed line-up yet.
Despite international tours (UAE, Germany and previously USA, Scandinavia, Caribbean etc.), corporate clients (Mitsubishi, NatWest) and even book appearances (The Rocker, Send In The Clones), they start 2020 with a string European tour dates, in what will be an exhausting year-long schedule. The boys are back!
'…Limehouse Lizzy Top PRS for Music's Hardest Working UK Bands List'
Billboard Magazine
"Limehouse Lizzy's Wayne Ellis, an uncanny ringer for Phil Lynott…" – The Guardian
"entertainment for more than a decade…fantastic live music" – Arena BBC2
"if you're sceptical about tribute acts, you won't be after seeing Limehouse Lizzy" – Radio Times
"Gig of the week" – The Mirror
Visit Limehouse Lizzy's website
Follow Limehouse Lizzy on Twitter
Like Limehouse Lizzy on Facebook
Follow Limehouse Lizzy on Instagram