Age: 14+
Dynamic Pricing
ARC's policy is to set ticket prices based on demand, like budget airlines, which means we set a price when the event goes on sale and then sometimes put the price up or down depending on how the show is selling. Usually, the price will increase as we get closer to the event, so it is advantageous to book in advance, although sometimes we will put special offers on and reduce the price. Our website will always show the current ticket price.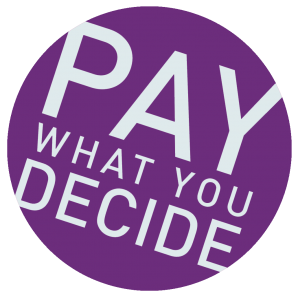 ARC's theatre and dance performances are priced on a Pay What You Decide basis, which means you don't have to pay until after you have seen a show!
We want to encourage more people to come and see shows at ARC, more often. Pay What You Decide not only allows you to pay what you can afford, rather than a fixed ticket price, but also removes the financial risk of buying a ticket for a show in advance without knowing whether you are going to enjoy it or not.
Tickets are available to book in advance as usual, but there is no obligation for you to pay until after you have seen the show. You can then decide on a price which you think is suitable based on your experience, which means if you haven't enjoyed it at all, you don't have to pay anything.
All money collected will help ARC pay the artists who have performed, and we therefore hope you will give generously.
Please ensure you have arrived and collected your tickets 15 minutes before the show starts in order to secure your seats. At the end of the show, you can decide what to pay, either by cash on the door or by card at the Box Office.
Seating: Allocated - See Seating Plan for More Details
Crack out the bunting! It's Luke Wright's Silver Jubilee.
Over twenty-five years, Luke Wright has built up a reputation for being one of Britain's most popular live poets. He has won an unprecedented four Saboteur Awards (national awards for spoken word), a Stage Award, and a Fringe First. He's sold out shows across the world and regularly tours with John Cooper Clarke and The Libertines.
This show debuted to a packed arena at Latitude Festival before a sell out run at the Edinburgh Fringe where it was the toast of the critics.
'This is the best thing that poet Luke Wright has done, which is saying something.' ★★★★★ The Telegraph
This year, thwarted in his attempts to hold a street party by the philistines on the council and unable to shift the over-ordered commemorative plates, Wright does what a poet does best, and takes a deep dive into himself. What follows is his most confessional show to date.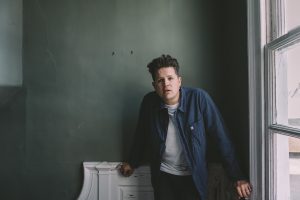 'Breathtaking … with a sharpness and wisdom that lifts the soul, and soothes the battered heart.' ★★★★ The Scotsman
Wright was adopted as a baby and grew up believing that his adoption "wasn't a big thing." But one night he idly stumbled across his birth mother on Facebook. This window to a world that might have been his has thrown up deep questions about privilege, familial love, and destiny.
'Luke is on fire! A poetic interrogation of himself, who he is and where he is from that leaves you tenderised and bruised and with a little something in your eye.' Mark Thomas
This show is an excavation of lives lived and not lived. Wright navigates his audience through a warm and honest hour of poems and stand-up with the directness and pathos that has made him one of the most popular live poets in England. With some wild experiments in form, a nervous kitten called Sir John Betjeman and a healthy smattering of drum n bass, Wright manages to navigate some heart-wrenching material and keep the laughs coming.
'A winning combination of honesty, humour, ire and wonder. He is at the peak of his powers.' ★★★★★ The Stage
"The best exploration of love, family and belonging I have ever had the pleasure of seeing." ★★★★★ The Student
"On the basis of the stellar quality of this show – here's to another twenty-five." ★★★★★ The Wee Review
'Britain's finest performance poet.' ★★★★★ Life As Theatre
'Wright is entrenched in the sound and feel of words, a love he leans into with a mix of boisterous energy, and gentle pathos' ★★★★ The QR
'Luke Wright is a gifted performer, a talented poet and a definite favourite of ours. Treat yourself to an hour in his company.' ★★★★ Darkchat
The Stage 'best 15 shows of the Fringe'
The Telegraph 'best 13 shows of the Fringe'
The Crush Bar 'top ten shows of the Fringe
Written & performed by Luke Wright
Supported by Norwich Arts Centre and Arts Council, England
Visit Luke's website
Follow Luke on Twitter
Follow Luke on Instagram
Like Luke on Facebook
Studio: Seating Accessibility Information

Seat size

In our Studio the seats in row A are 37cm (141/2″) wide and 44cm (171/3") deep, are 44cm (171/3") from the floor, and have a 12cm (43/4") gap between seats. Seats in row A are also removable as single seats.

Seats in rows B-H are 43cm (17") wide and 46cm (18") deep, are 44cm (171/3 ") from the floor, and have 8cm (3") between seats.

Seats in rows J-K are 43 cm (17") wide and 44cm (171/3") deep, are 44cm (171/3") from the floor, and have 8cm (3") between seats.

Armrests

Seats in the Studio do not have armrests.

Legroom

Seats in row A have 50cm (192/3") of legroom in front of seats.

Seats in rows B-H have 30cm (112/3") of legroom in front of seats.

Seats in rows J-K have 24cm (91/2") of legroom in front of seats.

Further information

If you have any questions about accessibility our Box Office team are always happy to help and can be contacted on 01642 525199 or by emailing [email protected] - you can also tell us about your access requirements when prompted to do so during the online booking process.