No tickets are currently available.
Dynamic Pricing
ARC's policy is to set ticket prices based on demand, like budget airlines, which means we set a price when the event goes on sale and then sometimes put the price up or down depending on how the show is selling. Usually, the price will increase as we get closer to the event, so it is advantageous to book in advance, although sometimes we will put special offers on and reduce the price. Our website will always show the current ticket price.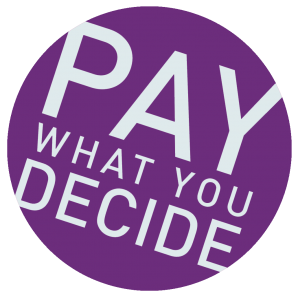 ARC's theatre and dance performances are priced on a Pay What You Decide basis, which means you don't have to pay until after you have seen a show!
We want to encourage more people to come and see shows at ARC, more often. Pay What You Decide not only allows you to pay what you can afford, rather than a fixed ticket price, but also removes the financial risk of buying a ticket for a show in advance without knowing whether you are going to enjoy it or not.
Tickets are available to book in advance as usual, but there is no obligation for you to pay until after you have seen the show. You can then decide on a price which you think is suitable based on your experience, which means if you haven't enjoyed it at all, you don't have to pay anything.
All money collected will help ARC pay the artists who have performed, and we therefore hope you will give generously.
Please ensure you have arrived and collected your tickets 15 minutes before the show starts in order to secure your seats. At the end of the show, you can decide what to pay, either by cash on the door or by card at the Box Office.
Seating: Allocated - See Seating Plan for More Details
Noel Coward grew up in poverty and left school when he was only nine years old. He was queer in a very straight world.
And yet by the age of 30, he was the highest paid writer in the world, and a star on the Broadway stage. He wrote, directed and acted in some of the finest plays and movies of all time, including Private Lives, Blithe Spirit, Brief Encounter and In Which We Serve. He also became a world renowned songwriter and performer of whom Frank Sinatra said, 'If you want to hear how a song should be sung, go see Mr Noel Coward'.
And if that wasn't enough, he was also a spy during the Second World War!
Against all odds, Noel Coward became the most successful multi-talented artist of the Twentieth Century. He defined an era and led an extraordinary life. This is his inspirational story told in his own words and music, and unique home movies.
The film features Laurence Olivier, Maggie Smith, Harold Pinter, Frank Sinatra, Lauren Bacall, Michael Caine and Lucille Ball. It is narrated by Alan Cumming. Rupert Everett is the voice of Noel Coward. Adam Lambert sings the title track. Directed by Barnaby Thompson
Director
Barnaby Thompson
Seating Accessibility Information

Cinema

Seat size

Seats in the Cinema are 45cm (172/3") wide and 46cm (18") deep, are 40cm (152/3") from the floor, and have 12cm (42/3") between seats.

Armrests

Seats in the Cinema have armrests that do not fold away, and cannot be completely removed.

Legroom

Seats in the cinema have 30cm (112/3") of legroom in front of seats, with additional legroom on row A and seats B1-B4 and B11-B14.

Further information

If you have any questions about accessibility our Box Office team are always happy to help and can be contacted on 01642 525199 or by emailing [email protected] - you can also tell us about your access requirements when prompted to do so during the online booking process.

BBFC Ratings Info (May Contain Spoilers)

Threat and horror

There is very mild threat in a scene from a film in which sailors are forced to jump into the sea after their ship is damaged in a WWII naval battle. There is also brief footage of destroyed buildings during the bombing of London in WWII.

Language

Brief home movie footage shows people flicking V-signs at the camera. There are also uses of mild and very mild bad language ('arse', 'hell' and 'damn').

Sex

There is a reference to a man being arrested for "cottaging". There are also mild sex references.

Discrimination

There are references to historical oppressive laws and the social marginalisation experienced by homosexual men which compelled the likes of Coward to keep their sexuality hidden. There is also racial stereotyping, in a historical context, in a comment about an image of Coward with his eyes almost closed making him look like a "doped Chinese illusionist". Discrimination is not endorsed by the work as a whole.

Drugs

A character in a stage play is described as being a drug addict.

Sexual violence and sexual threat

Coward makes a discreet and passing reference to being molested as a child.

Theme

There are references to mental health, including a passing comment about people driven by circumstance to take their own lives. There are references to the deaths of family members and close friends.

Alcohol and tobacco

There are frequent images of cigarette smoking which reflect the times in which the events covered by the documentary took place.