No tickets are currently available.
Dynamic Pricing
ARC's policy is to set ticket prices based on demand, like budget airlines, which means we set a price when the event goes on sale and then sometimes put the price up or down depending on how the show is selling. Usually, the price will increase as we get closer to the event, so it is advantageous to book in advance, although sometimes we will put special offers on and reduce the price. Our website will always show the current ticket price.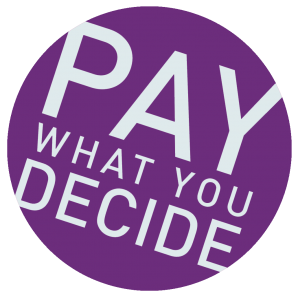 ARC's theatre and dance performances are priced on a Pay What You Decide basis, which means you don't have to pay until after you have seen a show!
We want to encourage more people to come and see shows at ARC, more often. Pay What You Decide not only allows you to pay what you can afford, rather than a fixed ticket price, but also removes the financial risk of buying a ticket for a show in advance without knowing whether you are going to enjoy it or not.
Tickets are available to book in advance as usual, but there is no obligation for you to pay until after you have seen the show. You can then decide on a price which you think is suitable based on your experience, which means if you haven't enjoyed it at all, you don't have to pay anything.
All money collected will help ARC pay the artists who have performed, and we therefore hope you will give generously.
Please ensure you have arrived and collected your tickets 15 minutes before the show starts in order to secure your seats. At the end of the show, you can decide what to pay, either by cash on the door or by card at the Box Office.
Seating: Allocated - See Seating Plan for More Details
As Seen on Mock The Week, BT Sport and ITV, 'Master of one-liners' MARK SIMMONS brings his brand-new show on the road.
Mark recently joined Dara O'Brian and Hugh Dennis on BBC2's Mock The Week as a semi-regular on the show and now brings you his hotly-anticipated show Quip Off The Mark. He's also been appearing on BT Sport's DIY pundit and The Rugby's On.
Mark has also appeared in other TV shows such as ITV's Out There, BBC Radio 4ExtraStands Up, a Channel 4 pilot starring alongside Bridget Christie, as well as BBC3's One For The Road.
Mark also hosted News-ish and Film-ish on Fubar Radio alongside co-host Seann Walsh. And now is enjoying further success with his solo podcast, Jokes With Mark Simmons, where he invites a fellow comic, such as Gary Delaney and Milton Jones to discuss jokes that they've written but simply just haven't worked.
This isn't your average one-liner show as there is the running theme throughout. This year Mark's parents have sold the house he grew up in and has to collect his box of stuff from the loft. Come discover what's in the box in this top-level one-liner show structured in a way you've never seen before.
Support on the night comes from Danny Ward. 
Dynamic pricing increases from Tues 2 May

In line with our dynamic pricing policy we are informing you that from 10am on Tues 2 May, prices for this event will be going up:

Tickets increasing from: £18 to £21 inc. booking fees.

Our Dynamic Pricing Policy

ARC's policy is to set ticket prices for most of our music, comedy, and family events based on demand. This means that the price can go up or down depending on how tickets are selling, but it is most often the case that ticket prices will rise from the point of going on sale, meaning the best ticket prices can be secured by booking early. We won't usually increase prices in the first calendar month of an event going on sale.

Our dynamic pricing policy includes on the door pricing, meaning there will always be a final price increase from 10am on the day of the event, meaning it is best to book in advance of the event date.