No tickets are currently available.
Dynamic Pricing
ARC's policy is to set ticket prices based on demand, like budget airlines, which means we set a price when the event goes on sale and then sometimes put the price up or down depending on how the show is selling. Usually, the price will increase as we get closer to the event, so it is advantageous to book in advance, although sometimes we will put special offers on and reduce the price. Our website will always show the current ticket price.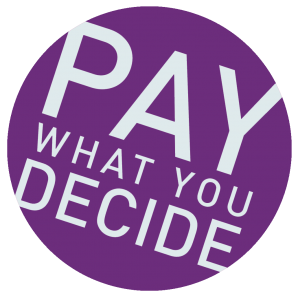 ARC's theatre and dance performances are priced on a Pay What You Decide basis, which means you don't have to pay until after you have seen a show!
We want to encourage more people to come and see shows at ARC, more often. Pay What You Decide not only allows you to pay what you can afford, rather than a fixed ticket price, but also removes the financial risk of buying a ticket for a show in advance without knowing whether you are going to enjoy it or not.
Tickets are available to book in advance as usual, but there is no obligation for you to pay until after you have seen the show. You can then decide on a price which you think is suitable based on your experience, which means if you haven't enjoyed it at all, you don't have to pay anything.
All money collected will help ARC pay the artists who have performed, and we therefore hope you will give generously.
Please ensure you have arrived and collected your tickets 15 minutes before the show starts in order to secure your seats. At the end of the show, you can decide what to pay, either by cash on the door or by card at the Box Office.
Never one to take the easy option, Mark decided to go rambling in the Middle East and walked the entire length of the Israeli Barrier crossing between the Israeli and the Palestinian side. This is the story of 300,000 settlers; a 750 km wall; six arrests, one stoning; too much hummus and a simple question… can you ever get away from it all with a good walk?
walking the wall clip from Go Faster Stripe on Vimeo.
In December 2009, Mark spent 9 weeks walking the entirety of the Israeli Barrier.
The wall was started in 2003 and when completed, will be 750km long – it is a military structure overseen by watchtowers with signs of 'warning of imminent death' and is patrolled by the Israeli Army Police. It entirely encircles the Palestinians who can only get out through checkpoints with permission. There are around 300,000 Palestinians living within that area.
During the 9 weeks walking, Mark was detained 6 or 7 times for several hours by the Army.
He was detained by the Palestinians too but that was mainly for coffee and food.
Mark Thomas's latest live stream arrives this August via Go Faster Stripe! If you caught Showtime From The Frontline then you'll already know a bit about Mark's travels in Palestine, and the story of his 750 mile journey is a must see.
Show includes live introduction from Mark (with BSL interpreter), stream of the filmed show (with captioned option) followed by Q&A with special guests (with BSL interpreter).
Please note: Booking for this event is via Go Faster Stripe, once you have booked you will be emailed details of how to access the performance on the day.
Click the button below to buy tickets through Go Faster Stripe. Mark will be sharing 20% of the ticket income bought through this link with ARC, meaning you are helping to support us by watching Mark's show.