No tickets are currently available.
Dynamic Pricing
ARC's policy is to set ticket prices based on demand, like budget airlines, which means we set a price when the event goes on sale and then sometimes put the price up or down depending on how the show is selling. Usually, the price will increase as we get closer to the event, so it is advantageous to book in advance, although sometimes we will put special offers on and reduce the price. Our website will always show the current ticket price.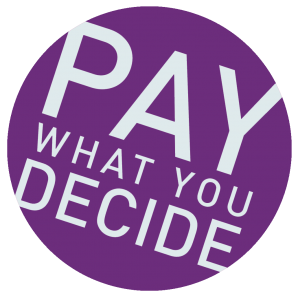 ARC's theatre and dance performances are priced on a Pay What You Decide basis, which means you don't have to pay until after you have seen a show!
We want to encourage more people to come and see shows at ARC, more often. Pay What You Decide not only allows you to pay what you can afford, rather than a fixed ticket price, but also removes the financial risk of buying a ticket for a show in advance without knowing whether you are going to enjoy it or not.
Tickets are available to book in advance as usual, but there is no obligation for you to pay until after you have seen the show. You can then decide on a price which you think is suitable based on your experience, which means if you haven't enjoyed it at all, you don't have to pay anything.
All money collected will help ARC pay the artists who have performed, and we therefore hope you will give generously.
Please ensure you have arrived and collected your tickets 15 minutes before the show starts in order to secure your seats. At the end of the show, you can decide what to pay, either by cash on the door or by card at the Box Office.
Seating: Allocated - See Seating Plan for More Details
This is a relaxed screening designed to be a more enjoyable experience for learning-disabled people, people with autism and people with sensory or neurological conditions.
Young and naive forest spirit Mavka, develops feelings for a human musician, Lukas. As they grow closer to each other, an inevitable situation forces Mavka to choose between her love and her duty as a guardian of the forest.
Director: Oleksandra Ruban, Oleg Malamuzh
Cast: Artem Pivovarov, Nataliya Denisenko, Elena Kravets, Khrystyna Soloviy, Nazar Zadneprovskiy
Film Club
Stay after the film and join us for craft-related play activities designed by the amazing Kitchen Zoo. Known for their joyful, energetic theatre for young audiences and families, and now for fun film-related activities for Film Club audiences at ARC.
Film Club is a nurturing and creative environment for you to make memories together. We are respectful that our young audiences engage and express themselves in activities in different ways, therefore, Film Club is a welcoming space for you and your family with films screened on a relaxed basis and suitable for all ages.
BBFC Ratings Info (May Contain Spoilers)

Violence

Mild and undetailed violence with reassuring outcomes occurs. A character uses her powers to escape a group of villagers armed with pitchforks and axes, one of which hits a tree character in the back. An army of humans storm a forest, there is repeated sight of people running from and falling into fire. Humans and forest creatures battle one another with magic, bladed weapons and heavy machinery.

Threat and horror

Mild threat includes characters being pursued by villains and fantastical creatures. Characters disarm individuals swinging a chainsaw, rescue a man from drowning in a locked cellar, witness a human skull emerging from a lake, and save creatures from being crushed by a bulldozer. A woman is startled by a wild animal but later rescues its trapped cub, a young calf is saved from hunters and a character awakens in a dark cloud to the ominous voice of a magical being.

Language

There is use of very mild bad language ('God', 'damn').

Sex

There is a scene in which two characters kiss, and a water spirit playfully flirts with a human before hissing and frightening him.

Rude humour

There is infrequent use of toilet humour.

Theme

There are references to a man dying in a forest fire and his becoming an orphan, and ill characters needing medicine to survive.

Seating Accessibility Information

Cinema

Seat size

Seats in the Cinema are 45cm (172/3") wide and 46cm (18") deep, are 40cm (152/3") from the floor, and have 12cm (42/3") between seats.

Armrests

Seats in the Cinema have armrests that do not fold away, and cannot be completely removed.

Legroom

Seats in the cinema have 30cm (112/3") of legroom in front of seats, with additional legroom on row A and seats B1-B4 and B11-B14.

Further information

If you have any questions about accessibility our Box Office team are always happy to help and can be contacted on 01642 525199 or by emailing [email protected] - you can also tell us about your access requirements when prompted to do so during the online booking process.