No tickets are currently available.
Dynamic Pricing
ARC's policy is to set ticket prices based on demand, like budget airlines, which means we set a price when the event goes on sale and then sometimes put the price up or down depending on how the show is selling. Usually, the price will increase as we get closer to the event, so it is advantageous to book in advance, although sometimes we will put special offers on and reduce the price. Our website will always show the current ticket price.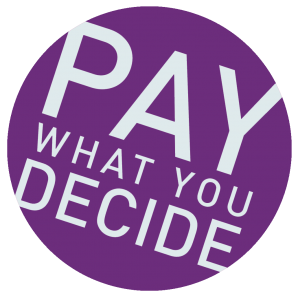 ARC's theatre and dance performances are priced on a Pay What You Decide basis, which means you don't have to pay until after you have seen a show!
We want to encourage more people to come and see shows at ARC, more often. Pay What You Decide not only allows you to pay what you can afford, rather than a fixed ticket price, but also removes the financial risk of buying a ticket for a show in advance without knowing whether you are going to enjoy it or not.
Tickets are available to book in advance as usual, but there is no obligation for you to pay until after you have seen the show. You can then decide on a price which you think is suitable based on your experience, which means if you haven't enjoyed it at all, you don't have to pay anything.
All money collected will help ARC pay the artists who have performed, and we therefore hope you will give generously.
Please ensure you have arrived and collected your tickets 15 minutes before the show starts in order to secure your seats. At the end of the show, you can decide what to pay, either by cash on the door or by card at the Box Office.
These relaxed screenings are designed to be a more enjoyable experience for learning-disabled people, people with autism and people with sensory or neurological conditions.
This is a Family Partnership screening in association with Wellington Square.

An adventurous teenager sails out on a daring mission to save her people. During her journey, Moana meets the once-mighty demigod Maui, who guides her in her quest to become a master way-finder. Together they sail across the open ocean on an action-packed voyage, encountering enormous monsters and impossible odds. Along the way, Moana fulfils the ancient quest of her ancestors and discovers the one thing she always sought: her own identity.
Directors
Ron Clements, John Musker
Cast
Auli'i Cravalho, Dwayne Johnson, Alan Tudyk, Jemaine Clement, Temuera Morrison, Nicole Scherzinger
Family screenings at ARC are supported by Film Hub North with National Lottery funding on behalf of the BFI Film Audience Network.
BBFC Ratings Info (May contain spoilers)

Threat and horror

There are scenes of mild threat in which the central character and her companion face danger from natural sources, such as stormy seas, as well as fantastical creatures, such as a giant lava monster, tiny piratical coconuts and people-eating plants. Some of these scenes are sustained, and the creatures have scary appearances, but the accent is on the excitement of the adventures, as well as the bravery and resourcefulness displayed by the characters in overcoming the dangers. The threat is also relieved by the comic elements in the story and the characters' behaviour. There is also a scene in which a character talks about his parents not wanting him and being abandoned out at sea, but the audience is aware of his survival and the character receives immediate reassurance and support from a companion.

There is very mild bad language which includes uses of 'butt', 'heinie', 'screwed up' and a truncated "son of a …". There is mild emotional upset when an older character passes away. In the short animation that precedes the feature, a character has comic visions of stepping into a coffin, and there is also very mild rude humour when he is shown going to the toilet just after waking up.

About Wellington Square

Wellington Square is an outdoor community shopping centre in the heart of Stockton-on-Tees.

Home to over 45 stores, they have High Street giants, including River Island and Specsavers. Local independents such as Bluecorn Bakery and Katie's Kards and services including Citizens Advice and Stockton-on-Tees Employment & Training Hub.

They want to provide a fun and easy shopping experience where you can pick everything up in one go and enjoy a delicious lunch in one of their cafes while doing so.

Parking is FREE for one hour and just £1.50 for up to 3 hours in our safe and secure manned car park.

Join Wellington Square this summer for Stockton-on-Sea with plenty of fun seaside activities, including a surf simulator, a funfair and plenty of crafts.

Seating Accessibility Info

Seat size

Seats in the Cinema are 45cm (172/3") wide and 46cm (18") deep, are 40cm (152/3") from the floor, and have 12cm (42/3") between seats.

Armrests

Seats in the Cinema have armrests that do not fold away, and cannot be completely removed.

Legroom

Seats in the cinema have 30cm (112/3") of legroom in front of seats, with additional legroom on row A and seats B1-B4 and B11-B14.

Further information

If you have any questions about accessibility our Box Office team are always happy to help and can be contacted on 01642 525199 or by emailing [email protected] - you can also tell us about your access requirements when prompted to do so during the online booking process.