No tickets are currently available.
Dynamic Pricing
ARC's policy is to set ticket prices based on demand, like budget airlines, which means we set a price when the event goes on sale and then sometimes put the price up or down depending on how the show is selling. Usually, the price will increase as we get closer to the event, so it is advantageous to book in advance, although sometimes we will put special offers on and reduce the price. Our website will always show the current ticket price.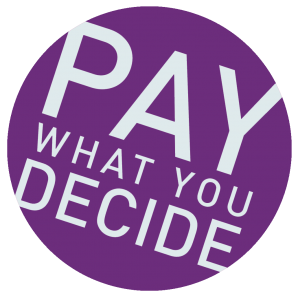 ARC's theatre and dance performances are priced on a Pay What You Decide basis, which means you don't have to pay until after you have seen a show!
We want to encourage more people to come and see shows at ARC, more often. Pay What You Decide not only allows you to pay what you can afford, rather than a fixed ticket price, but also removes the financial risk of buying a ticket for a show in advance without knowing whether you are going to enjoy it or not.
Tickets are available to book in advance as usual, but there is no obligation for you to pay until after you have seen the show. You can then decide on a price which you think is suitable based on your experience, which means if you haven't enjoyed it at all, you don't have to pay anything.
All money collected will help ARC pay the artists who have performed, and we therefore hope you will give generously.
Please ensure you have arrived and collected your tickets 15 minutes before the show starts in order to secure your seats. At the end of the show, you can decide what to pay, either by cash on the door or by card at the Box Office.
Model Citizens
By Luke Harding
I made a proposal to create a 'scale model' of Stockton-on-Tees, with 3D-printed models of people who lived here (my home town) whilst recording their voices.
I was primarily concerned with senses and experiences of Distance – and distance pollution. In regarding distance; between subjects/between people; – especially when those subjects are shown second-hand through media such as the internet, digitisation, light-speed technologies, photography and art – I thought about scale, and in this work I was particularly interested in contemplating the relative intimacy of a person's voice as revealing more potentially, and providing closer proximity than what is apparent and otherwise observed at distance. I think that the 3D printed figures are fascinating. The process of photogrammetry, digitisation and 'reconstitution' into three dimensionality and objectivity shifts our consideration of the subject (the person), whilst the voice restores a level of intimacy and subjectivity.
I started making this work in Stockton, I then transferred my art-making to Central St Martin's School of Art, from where I was able to consider Stockton as a location relative-to Kings Cross in London. From here I incorporated Google-Earth satellite imagery of Stockton on Tees at a scale of 1:60, by silk-screen printing 240 individual paving slabs to create a 6 by 9 metre floor piece.
I started model-making, – spotlighting ARC, where we had photographed many of our 3D models. The idea of model making was itself a fascinating process – on the one hand imagining how expansive – and infinitely large the scaled model could be, and on the other the infinite small detail, which is possible – transferring scalable digital information into a physical form, with physical work, in either case experiencing the limitations of human endeavour.
Inevitably as this meta-project developed I would contemplate a range of related issues through this work… I made this work before the EU referendum, but having just arrived in London from Stockton, I was very conscious of some of the issues that I almost certainly affected the outcome of that vote, and the country's unbalanced economy, conspicuously aware that a new billion pound building was mushrooming up every month around Kings Cross at this time, as 2000 new super-tech Google jobs were announced for this square mile, I had the opportunity to set-out this work/in the correct orientation within "The Street" of Central St Martins art school.
By transposing Stockton High Street to this wealthy site 280 miles South, I invited people who were benefiting from the riches of this locality to walk through a satellite photograph of Stockton a place with very different social characteristics on many levels,- a world away economically.
This scale model work was a precursor to a subsequent '1:1 scale project' to create The Cafe at mima (a real working cafe and useful art project). At the time mima was embarking on a programme of Arte Util which advocates Life as Art, and the importance of first hand, lived experience over Spectacle and commodity. This was something that was very interesting to me having facilitated socially engaged art projects in the past. I think therefore that ARC, as a fantastic community theatre and arts centre where people do things (and don't just look at things) and is a great setting for a short mini-exhibition of this work. (If any community group is interested in adopting this work for some continued model-making in the future, please get in touch!)
I received a Newcastle University Institute for Creative Arts Practice Award for this project, Our photogrammetry and 3D printing services were kindly provided by Asda.