No tickets are currently available.
Dynamic Pricing
ARC's policy is to set ticket prices based on demand, like budget airlines, which means we set a price when the event goes on sale and then sometimes put the price up or down depending on how the show is selling. Usually, the price will increase as we get closer to the event, so it is advantageous to book in advance, although sometimes we will put special offers on and reduce the price. Our website will always show the current ticket price.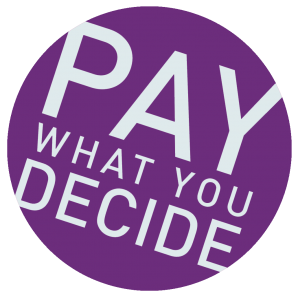 ARC's theatre and dance performances are priced on a Pay What You Decide basis, which means you don't have to pay until after you have seen a show!
We want to encourage more people to come and see shows at ARC, more often. Pay What You Decide not only allows you to pay what you can afford, rather than a fixed ticket price, but also removes the financial risk of buying a ticket for a show in advance without knowing whether you are going to enjoy it or not.
Tickets are available to book in advance as usual, but there is no obligation for you to pay until after you have seen the show. You can then decide on a price which you think is suitable based on your experience, which means if you haven't enjoyed it at all, you don't have to pay anything.
All money collected will help ARC pay the artists who have performed, and we therefore hope you will give generously.
Please ensure you have arrived and collected your tickets 15 minutes before the show starts in order to secure your seats. At the end of the show, you can decide what to pay, either by cash on the door or by card at the Box Office.
General Prices: £25 + £0.10 booking fee
Seating: Reserved seated
When Bono stated recently, "I think she has one of the greatest voices the human ear has ever experienced", he was heralding what many people know already about Moya Brennan, The Voice of Clannad,
She sings like nothing you've ever heard before, so it makes sense that her live solo shows – with all the musicality and power of Clannad but with added, heart-warming intimacy – should be such a rich and moving experience.
With Clannad she rose to prominence with a pioneering approach to traditional music which has garnered them 15 million record sales worldwide and a string of awards, including a Grammy. Their sound has since become the benchmark for the Celtic music genre. Sister Enya joined Clannad for a time before pursuing her own successful career.
Moya's solo career has continued that success with 8 solo albums to her name and more in the pipeline. Her live show has developed into a visual (as well as sound) spectacle with rhythm, atmosphere and vibrant harmony.
Her career to date includes 25 albums, numerous film scores and she has sung with many great artists, including The Chieftains, Robert Plant, Paul Brady, Shane MacGowan and, of course, Bono.
Her voice continues to be in demand in dance music and includes collaborations with Chicane (Saltwater), DJ Roger Shah and Schiller.