No tickets are currently available.
Dynamic Pricing
ARC's policy is to set ticket prices based on demand, like budget airlines, which means we set a price when the event goes on sale and then sometimes put the price up or down depending on how the show is selling. Usually, the price will increase as we get closer to the event, so it is advantageous to book in advance, although sometimes we will put special offers on and reduce the price. Our website will always show the current ticket price.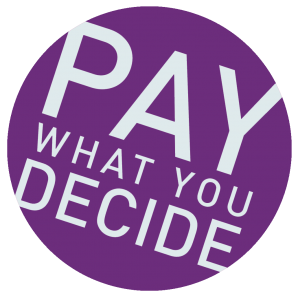 ARC's theatre and dance performances are priced on a Pay What You Decide basis, which means you don't have to pay until after you have seen a show!
We want to encourage more people to come and see shows at ARC, more often. Pay What You Decide not only allows you to pay what you can afford, rather than a fixed ticket price, but also removes the financial risk of buying a ticket for a show in advance without knowing whether you are going to enjoy it or not.
Tickets are available to book in advance as usual, but there is no obligation for you to pay until after you have seen the show. You can then decide on a price which you think is suitable based on your experience, which means if you haven't enjoyed it at all, you don't have to pay anything.
All money collected will help ARC pay the artists who have performed, and we therefore hope you will give generously.
Please ensure you have arrived and collected your tickets 15 minutes before the show starts in order to secure your seats. At the end of the show, you can decide what to pay, either by cash on the door or by card at the Box Office.
Seating: Allocated - See Seating Plan for More Details
Award-winning filmmakers, Phil Grabsky and Shoaib Sharifi, present a real-life epic of boyhood and manhood, filmed across twenty years in one of the most embattled corners of the globe. My Childhood, My Country – 20 Years in Afghanistan follows the journey of Afghan youth, Mir Hussain, growing up in a land ravaged by war.
When we first meet Mir, he is a boy of eight playing among the ruins of the Buddhas of Bamiyan in wartorn rural Afghanistan, treating the destruction around him as a wonderful playground. It is 2002 and in the aftermath of the attacks on the World Trade Centre, US troops have landed in Afghanistan, thus beginning a seemingly endless war in one of the world's poorest countries. This intimate feature documentary follows Mir's journey over the next two decades, telling a remarkably personal story of the poverty, destruction, aspiration and progress that colours Afghan life today.
Now a grown man with a family of his own and an emerging career as a news cameraman in Kabul, Mir's personal journey of pride, resilience and hope is interwoven with the narrative of his nation. Mir's story is joined by the sobering comments of soldiers, key politicians and journalists who offer insights into the bigger picture – the successes and failures, rights and wrongs over the past 20 years of conflict.
Two decades on from 9/11 and the subsequent 'War on Terror', My Childhood, My Country – 20 Years in Afghanistan offers a uniquely personal insight into one of the most devastating conflicts of the 21st Century. After a trillion dollars spent by 40 countries and 150,000 lives lost, the film asks was it worth it, for Mir, his country and the world?
Find out more about My Childhood My Country: 20 Years in Afghanistan here
Seating Accessibility Information

Cinema

Seat size

Seats in the Cinema are 45cm (172/3") wide and 46cm (18") deep, are 40cm (152/3") from the floor, and have 12cm (42/3") between seats.

Armrests

Seats in the Cinema have armrests that do not fold away, and cannot be completely removed.

Legroom

Seats in the cinema have 30cm (112/3") of legroom in front of seats, with additional legroom on row A and seats B1-B4 and B11-B14.

Further information

If you have any questions about accessibility our Box Office team are always happy to help and can be contacted on 01642 525199 or by emailing [email protected] - you can also tell us about your access requirements when prompted to do so during the online booking process.

BBFC Rating (May Contain Spoilers)

Threat & Horror

Includes images of real dead bodies, including those of children

Violence

Contains themes of Killing, bombing and terrorism throughout. Includes real images of war, dead and injured people, blood-stained areas following a bombing, and one instance of a woman being hit with a stick.