No tickets are currently available.
Dynamic Pricing
ARC's policy is to set ticket prices based on demand, like budget airlines, which means we set a price when the event goes on sale and then sometimes put the price up or down depending on how the show is selling. Usually, the price will increase as we get closer to the event, so it is advantageous to book in advance, although sometimes we will put special offers on and reduce the price. Our website will always show the current ticket price.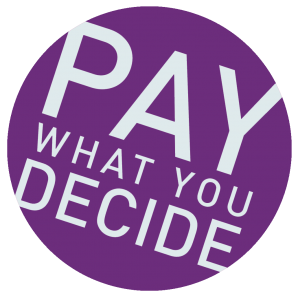 ARC's theatre and dance performances are priced on a Pay What You Decide basis, which means you don't have to pay until after you have seen a show!
We want to encourage more people to come and see shows at ARC, more often. Pay What You Decide not only allows you to pay what you can afford, rather than a fixed ticket price, but also removes the financial risk of buying a ticket for a show in advance without knowing whether you are going to enjoy it or not.
Tickets are available to book in advance as usual, but there is no obligation for you to pay until after you have seen the show. You can then decide on a price which you think is suitable based on your experience, which means if you haven't enjoyed it at all, you don't have to pay anything.
All money collected will help ARC pay the artists who have performed, and we therefore hope you will give generously.
Please ensure you have arrived and collected your tickets 15 minutes before the show starts in order to secure your seats. At the end of the show, you can decide what to pay, either by cash on the door or by card at the Box Office.
The Crossing the Tees digital programme launches with award-winning writer Katie Hale, reading from her post-apocalyptic 'feminist Robinson Crusoe novel' My Name Is Monster.
A lone survivor of a collapsed society becomes a scavenger, a pioneer, a farmer, – but when she meets a feral child in the ruins, can she become a mother?
Join us as we talk about keeping hope, love, and human culture alive through dark times.
Buy your copy of My Name Is Monster from our official festival bookseller DRAKE the Bookshop.
About My Name Is Monster:

After the Sickness has killed off her parents, and the bombs have fallen on the last safe cities, Monster emerges from the arctic vault which has kept her alive. When she washes up on the coast of Scotland, everyone she knows is dead, and she believes she is alone in an empty world.

Monster begins the long walk south, scavenging and learning the contours of this familiar land made new. Slowly, piece by piece, she begins to rebuild a life. Until, one day, she finds a girl: feral, and ready to be taught all that Monster knows. Changing her own name to Mother, Monster names the child after herself. As young Monster learns from Mother, she also discovers her own desires, realising that she wants very different things to the woman who made, but did not create, her.

Inspired by Robinson Crusoe and Frankenstein, My Name is Monster is a novel about power, about the things that society leaves imprinted on us when the rules no longer apply, and about the strength and the danger of a mother's love.