No tickets are currently available.
Pay What You Decide Info
Dynamic Pricing
ARC's policy is to set ticket prices based on demand, like budget airlines, which means we set a price when the event goes on sale and then sometimes put the price up or down depending on how the show is selling. Usually, the price will increase as we get closer to the event, so it is advantageous to book in advance, although sometimes we will put special offers on and reduce the price. Our website will always show the current ticket price.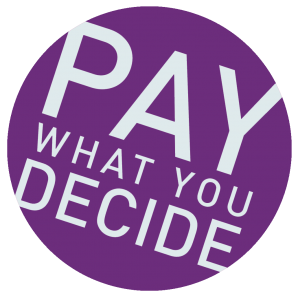 ARC's theatre and dance performances are priced on a Pay What You Decide basis, which means you don't have to pay until after you have seen a show!
We want to encourage more people to come and see shows at ARC, more often. Pay What You Decide not only allows you to pay what you can afford, rather than a fixed ticket price, but also removes the financial risk of buying a ticket for a show in advance without knowing whether you are going to enjoy it or not.
Tickets are available to book in advance as usual, but there is no obligation for you to pay until after you have seen the show. You can then decide on a price which you think is suitable based on your experience, which means if you haven't enjoyed it at all, you don't have to pay anything.
All money collected will help ARC pay the artists who have performed, and we therefore hope you will give generously.
Please ensure you have arrived and collected your tickets 15 minutes before the show starts in order to secure your seats. At the end of the show, you can decide what to pay, either by cash on the door or by card at the Box Office.
*This event can be attended in person (as part of a socially distanced audience) or watched online. Book to watch online using the booking button on this page, or book here to attend in person (as part of a socially distanced audience)*
North East Originals Film Festival is the showcase for BA (Hons) Film, TV & Theatre Production students at The Northern School of Art. The evening is the culmination of their course and an opportunity for them to present their final films. There are three fantastic short films made by a collection of exciting young film makers featuring performances from BA (Hons) Acting for Stage & Screen students.
There is no escape by Callum Hemmings
'If You're Innocent, You're Safe… Right?'
During the pandemic Leon's girlfriend Jill goes missing. In searching for her, Leon finds himself trapped in an abandoned house pursued by an evil jester.
Faith at Play by Nic Sian
'I'm getting my money back easy way or the hard way
A girl gets the opportunity of a lifetime to play in a poker night, but she gets more than she bargained for, family, friends and partnership.
D.I.Y by George Dickson
'Life is what you make it'
A lonely floor-mopper, Joseph, works late nights in a hardware store. After crossing paths with a troubled girl named Evie, the two are forced to find their place in the world as they learn to confront their fears.
Faculty Leader for Stage & Screen Jonny Bussell says 'This is a fantastic celebration of what the students have achieved over their 3 years of study. The students have worked so hard throughout their time with us and have had to navigate so many challenges over the last year. To produce these excellent films is testament to their talent, tenacity and passion for film making'
Q&A: The film screenings will be followed by a Q&A with the creative team to discuss their process and the films in more depth.
Age guidance: 15+ (the films contain scenes of violence, strong language and scenes that may be distressing).
Recommended age guidance: 14+
Please note: If you haven't joined us for a 'Pay What You Decide' event before, this means that tickets can be booked in advance as usual, but there is no obligation to pay until after you have watched. While we're very grateful for general donations made to ARC at the time of booking, please be aware that only payments made as part of the Pay What You Decide process at the end of the performance can be counted as part of your Pay What You Decide payment. Details of how you can make your payment will be emailed to you after the show and will also be made available via our social media channels.
Access to the performance is via our dedicated online streaming service. Click here to log in with your usual ARC account details (if you've forgotten your log in details, the email address will be the one that normally receives emails from us, and your password can easily be reset from the log in page).