No tickets are currently available.
Dynamic Pricing
ARC's policy is to set ticket prices based on demand, like budget airlines, which means we set a price when the event goes on sale and then sometimes put the price up or down depending on how the show is selling. Usually, the price will increase as we get closer to the event, so it is advantageous to book in advance, although sometimes we will put special offers on and reduce the price. Our website will always show the current ticket price.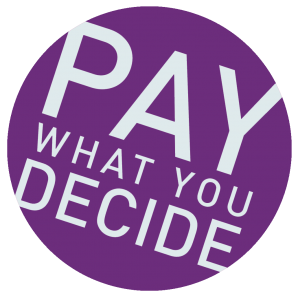 ARC's theatre and dance performances are priced on a Pay What You Decide basis, which means you don't have to pay until after you have seen a show!
We want to encourage more people to come and see shows at ARC, more often. Pay What You Decide not only allows you to pay what you can afford, rather than a fixed ticket price, but also removes the financial risk of buying a ticket for a show in advance without knowing whether you are going to enjoy it or not.
Tickets are available to book in advance as usual, but there is no obligation for you to pay until after you have seen the show. You can then decide on a price which you think is suitable based on your experience, which means if you haven't enjoyed it at all, you don't have to pay anything.
All money collected will help ARC pay the artists who have performed, and we therefore hope you will give generously.
Please ensure you have arrived and collected your tickets 15 minutes before the show starts in order to secure your seats. At the end of the show, you can decide what to pay, either by cash on the door or by card at the Box Office.
So you think you know food – but are you ready to take on our Big Food Lovers Quiz?
Our Big Food Lovers Quiz is here to divide the occasional snackers from the real foodies. And with a mouth-watering collection of prizes up for grabs the stakes are high. It wouldn't be a food lovers club event without the team at No 60 serving up a delicious series of dishes for you and your quiz team to indulge in while you confer on the answers.
At the beginning of each round we will serve up a sharing platter for your team to tuck into together, with a dish from a different part of the world in each round. Then our quiz master will ask a set of questions about the locale where that dish came from, some questions will focus on the food, but others won't meaning you won't be able to rely on your food knowledge alone.
The menu with gather dishes from far and wide to make this a quiz of truly global proportions.
Even if you don't know all of the answers this is a great opportunity to sample some world cuisines and learn a little bit more about the places those dishes come from.
And to the victors will go the spoils. We have some great prizes to give away including four tickets to our monthly comedy club, Catch 22, four tickets to a film of your choice at our cinema, a bottle of wine or pitcher of beer, and four tickets to our next food lovers club event. Plus there'll be a £25 shopping voucher which has kindly been provided by our friends at Wellington Square Shopping Centre in Stockton and two tickets to the Middlesbrough v Swansea City match on Saturday 22 September at the Riverside Stadium.
Grab a team and book your tickets – it's going to be a big one!